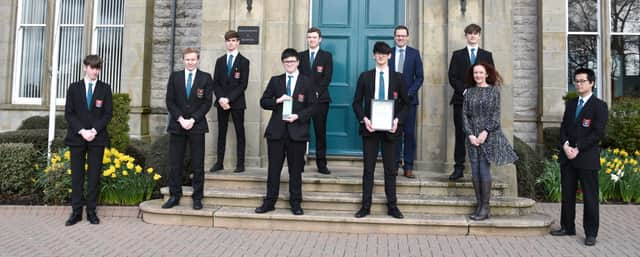 They set up their businesses online this year to sell to the general public for the first time!
During the academic year the student teams promoted and sold their products on Trading Station which has been developed by Young Enterprise as a user-friendly, digital selling marketplace allowing student companies to experience how to market and sell their products online.
'Monkey Business Sweets' had fantastic success achieving the 'Digital Marketing Award' as well as 'Overall Runner Up' in the Young Enterprise Big Market Competition.
Tyler Morrison, Managing Director of Monkey Business Sweets said: "Our company started with a group of friends wishing to learn more about entrepreneurship.
"We are a local business that strives to bring the people of Northern Ireland all-new candies and confectioneries from foreign lands straight to their doors. We feel we have gained many interpersonal and employability skills from participating in the programme."
Monkey Business was shortlisted for the Marketing and Social Media Awards
Knotted was also shortlisted for the Social Media Award.
Mr McLoughlin, Principal, said: "During these unprecedented times we were delighted that so many students were able to take part in this excellent entrepreneurial opportunity.
"Banbridge Academy had 14 companies taking part this year and all worked tirelessly to run their businesses during difficult times.
"We are delighted that 'Monkey Business Sweets' achieved such high accolades competing against schools from across (NI) and received recognition for their efforts and innovative marketing techniques."