Fully funded by the Department for the Economy, the new £40 million campus forms part of a wider £85 million capital investment to provide new campuses for the College in both Coleraine and Ballymena.
Heron Bros is the main contractor for both projects. The new campus will consolidate all teaching at the College's former Coleraine and Ballymoney campuses onto one expanded site and remains on schedule to be ready for the start of the 2024/25 academic year.
Incorporating a new entrance onto Anderson Park, the new campus will open up a pedestrian access route to the town centre, linking 'town and gown' and providing a welcome boost for the business community and act as a catalyst for further regeneration through increased footfall.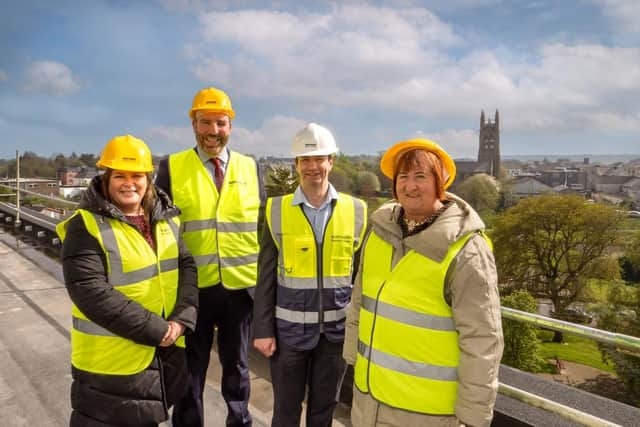 Northern Regional College Principal and Chief Executive, Mel Higgins, said: "The development of the College's new campus in Coleraine marks an important milestone in the history of Further Education in the Causeway Coast &Glens Council area and this was an ideal opportunity for us to showcase the benefit of the FE sector.
"Like the other FE Colleges in Northern Ireland, we have a transformational impact on the lives of our students and make a significant contribution to economic growth, both locally and regionally, by supporting businesses to upskill, reskill existing employees and attract talented new staff.
"The development of the new campus has reached an exciting stage and we can visualise how the space will be utilised. The greatly improved facilities will allow us to offer a widened curriculum and with it, greater opportunities. Staff and students alike will benefit from the modern and inspiring learning environment with the latest technologies, state of the art facilities and equipment."
The Principal continued: "We are creating a world-class learning environment for the delivery of the training, skills and transformational education needed to compete in today's competitive employment market and will continue to work with employers to identify and fill skills gaps to help drive economic growth."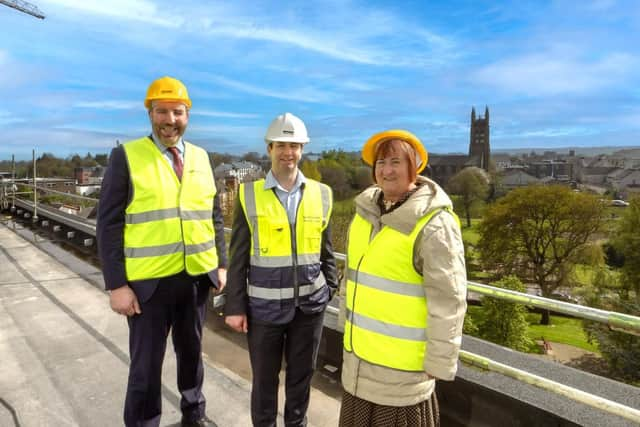 Speaking after the visit Heather Cousins, Head of the Skills and Education Group at the Department for the Economy said: "I am really pleased to see the progress being made on this new campus for Northern Regional College.
"This new facility will deliver a state-of-the-art, accessible to all, teaching and learning environment for people of all ages from the wider Coleraine area, equipping them with the skills they need for the evolving jobs market of the future."
She added: "The new campus will also assist in delivering the Department's 10X Economic Vision to transform Northern Ireland into one of the world's leading small elite economies through a focus on skills and innovation. I look forward to seeing the construction works progress and wish Northern Regional College every success as it looks forward to an exciting new chapter."
While the new Coleraine campus is under construction, Northern Regional College continues to offer a comprehensive range of courses and business support services from its temporary location at Beresford Avenue in the town. For more information, visit www.nrc.ac.uk