Hannah Montgomery was among a group of 24 teenagers from all over the island of Ireland to be presented with Rotary Youth Leadership Development certificates at the European Parliament's offices in Dublin recently. The competition is run in conjunction with the European Parliament Liaison Office in Dublin and Euroscola in Strasbourg.
Hannah, who is a pupil at Ulidia Integrated College, received her certificate from Rotary Ireland district governor Captain Sean Fitzgerald and Patrick O'Riordan, head of public affairs at the European Parliament's office in Ireland.
Hannah is involved in eco mentoring which involved educating young people on environmental issues while outside of school she is part of her local army cadets where she is a lance corporal.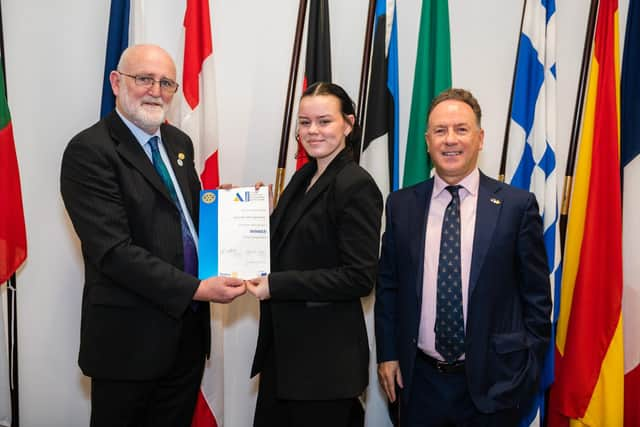 During a six-day all expenses paid trip, the competition winners visited Belfast City Hall where they met Lord Mayor Tina Black and Stormont where they met politicians from various parties. Then it was onto Europe House in Dublin before a trip to Dail Eireann where they met the Minister for Education Norma Foley and several TDs.
Climate Action
They then flew to Frankfurt for a two-day visit to Strasbourg. After being formally welcomed by the President of the European Parliament, Robert Metsola, the students took part in an interactive workshop which allowed them to discuss and vote on amendments to an EU proposal on climate action targets. They also enjoyed a walking tour of Strasbourg.
For Hannah the highlight was having the opportunity to speak in the EU Parliament and getting to share her views on pollution with other young people from across the globe.
She said: "I have learned so much from this trip; It taught me that it is ok to put yourself in uncomfortable positions or situations that are new so long as you give it your best effort. It taught me to believe in myself and to trust myself. It really was a once in a lifetime opportunity and I'm very grateful for it.
"If you have the opportunity to enter this competition my advice is to give it a go, you will not regret it and the lessons and friends you take away from it will stay with you forever."
Captain Fitzgerald said the knowledge and enthusiasm of the students was hugely impressive.