The purpose of the visit was to speak about ensuring the service is sustained so it can continue providing support to clients recovering from mental ill health progress towards further education, training, or employment.
AMH's recovery service is joint funded by the European Social Fund (ESF), Department for the Economy, Department for Communities and the five local health trusts. Unfortunately, AMH and other disability providers are facing a funding cliff edge with ESF funding due to run out on 31st March 2023, with no clarity around how or whether these funds with be replaced.
David Babington, Chief Executive of Action Mental Health said: "Under the current European Social Fund (ESF) programme, AMH supports around 1,500 clients annually with diagnosed mental health issues to recover and transition back into volunteering, further education or employment. The current ESF programme runs out at the end of March 2023 and there is no certainty what funding will exist beyond that. These vital services provide direct referral routes for statutory sector partners, especially the five Health and Social Care Trusts.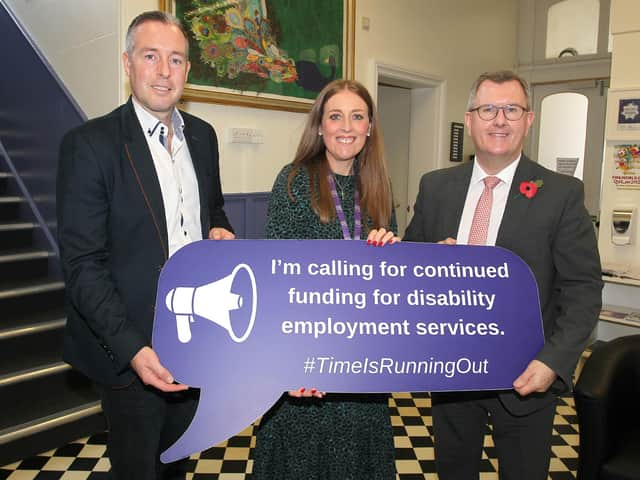 "Services from organisations like ourselves who support people with serious mental health issues, learning disabilities and a range of other disabilities are facing an uncertain future until future funding is secured."
Sir Jeffrey Donaldson MP said: "Together with my colleague Paul Givan MLA, I was delighted to visit with Action Mental Health at their Lisburn offices. During the visit, we met both the staff and clients participating in this vital service. From their personal testimonies, we learned about the excellent work undertaken by Action Mental Health to support local people transitioning back into the community and the workplace after receiving treatment for their mental health within the health and social care system.
"There is no doubt that the practical care and support provided by AMH is helping to transform lives and bring new hope to those availing of this service. It is crucial that this service continues to be fully funded so that the community and voluntary sector can play its full part in delivering better healthcare outcomes for many people."