The shocking revelations came in a special Channel 4 News report which had special access to the Emergency Department at Craigavon Hospital
One member of staff said: "Sometimes we have patients here for five days. It's really tough. You're talking about a service, that I don't think it is unfair to say, is collapsing around us."
-
-
Reporter Paul McNamara shares how one elderly patient arriving at Craigavon Hospital had fallen and spent the night on the floor. Fortunately her wait outside in the ambulance waiting to be seen by Dr Gareth Hampton was only 45 minutes. He said: "Delays here are the new normal with new additional, expensive costs."
Clinical Director, Emergency Medicine at the Southern Health Trust, Dr Hampton told the programme: "We have refurbished it trying to get more toilets in the Emergency Department, trying to get an area with a shower. If you can imagine, we have had people here for 100 hours, we have had people here for four or five days."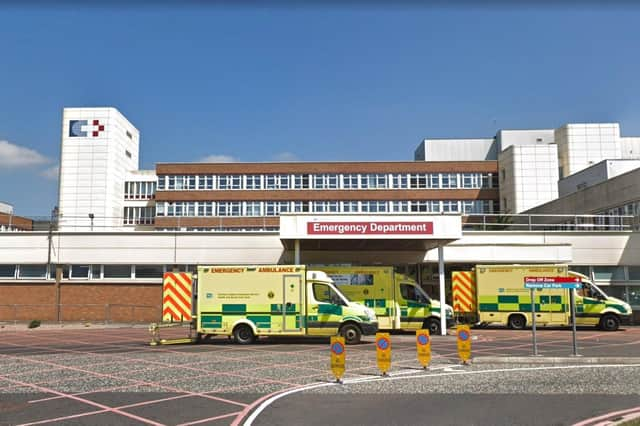 When asked why they stayed so long in the ED, Dr Hampton said it was because there were no other beds anywhere else in the hospital they could go to.
"We refurbished this area as we had to have cubicles with proper doors on," said Dr Hampton adding that this had to be done to accommodate people who were staying in the ED for so long.
Every inch of the ED is treatment space including corridors.
When Dr Hampton was asked if there is ever a time when the department has enough resources for people who come through the door he replied: "This last year it has been constant, it has been always behind, always struggling, we never have had enough to meet the demand. I can't think of one day this year, not in the summer, not in the holiday time. No."
Dealing with a patient with a suspected stroke, it was revealed he was lucky as the ambulance was prompt and getting him off the ambulance into the ED was also prompt.
Rory O'Connor, Chair of Council, College of Paramedics said: "Patients are coming to harm. I don't think that is a controversial thing to say. Patients are coming to harm on a regular basis. It is multi-factoral. People are dying probably that shouldn't die. For things like strokes and heart attacks we are not getting to them quick enough or they aren't getting treatment quick enough. That's the type of issue we are facing up to. As a health service in society we are not getting to people in time. People are asking us for help and we want to help them but we can't."
Anouska Black said she was meant to be seen in December and that was on a 12 week waiting list. She now believes she won't be seen until March or late February at the earliest. Anouska has severe Asthma and her last attack was near fatal. She is in a quandary as she doesn't want to hassle a service that is already under pressure but is very nervous about health.
Professor Deirdre Heenan of the University of Ulster said there have been seven major reports in the last decade pointing to the need to reduce the number of hospitals, more specialism and a bigger emphasis on prevention. "All our politicians say they agree with these plans but when it comes to actually enacting them, which might mean closing local services, then suddenly there is a problem and they don't want to do it."
Dr Maria O'Kane, Chief Executive of the Southern Health Trust was asked will things be the same in a year's time. She replied: "Unless we can improve the way we provide services in the community and unless we can empower our service users to feel confident to use the system differently and we educate them on that and unless we have an underpinning Executive to help support even the legislative changes that are needed to drive some of that, I can see the situation will continue."
A spokesperson for the Southern Health and Social Care Trust said: "Our hospitals continue to be fully occupied and operating beyond the capacity/resource that is available. On a daily basis, there are consistently high numbers of patients who are medically fit/optimised for discharge but who remain in hospital.
"It is vital that patients leave the hospital no later than 48 hours after confirmation they are medically fit/optimised for discharge and where a suitable discharge option which can meet their needs is available.
"Unnecessary or prolonged hospital stay can be detrimental as some patients may develop infections, confusion, low mood, reduced confidence, a risk of falling, a sense of social isolation and the risk of loss of mobility with further reduction in independence due to muscle loss. Any of these can have a significant impact on long-term recovery.
"With the resources currently available to us, we are finding it increasingly difficult to deliver the health and social care system needed to meet all the increasing demands of our population. This is not the level of care that the public expects or that any of us wants to provide but we can assure the public that those of us working in health and social care remain hugely committed to doing the best we can for patients."