Ballymena Girlguides challenge politicians on mental health crisis
Girlguides from the 1st Cullybackey Guides Unit have tackled local politicians on their response to a recent survey which revealed the happiness level of girls and young women in Northern Ireland is at a 15 year low.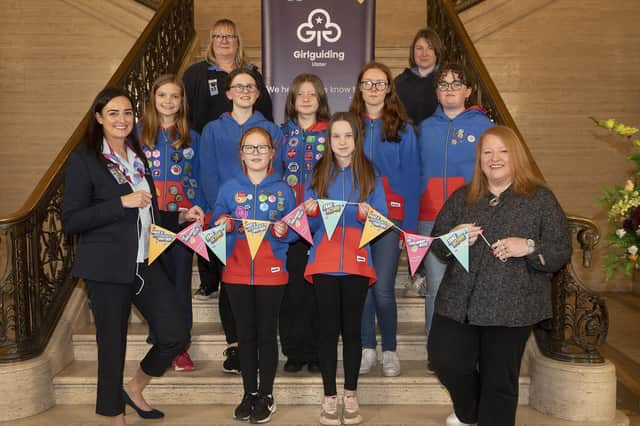 The issue was raised at Girlguiding Ulster's Parliament Week event, held at Stormont, where a group of guides and young leaders presented the 2023 Girls' Attitudes Survey to a panel of local politicians.
The stark survey findings reveal that girls' happiness has been in decline over the last 15 years, with only 17% describing themselves as 'very happy', compared to 40% in 2009. Those aged 7-10 have seen the steepest decline with only 28% currently feeling happy.
Over the same 15 years, stress and anxiety levels have been on the rise with a staggering 89% of girls aged 7-21 suffering from anxiety in 2023. Their main worries include appearance pressures, the threat of sexual harassment/assault and online harm.
Armed with the stats, the Girlguides seized the opportunity to probe the MLAs on the key issues and challenged them on the action their parties would take to drive change, if back in government. The panel, which included Alliance party leader Naomi Long and the DUP's Diane Dodds were also questioned on issues such as diversity, inclusion and equality.
Explaining why the Parliament Week event is so important, Lynn Morrow, Deputy Chief Commissioner of Girlguiding Ulster said: "The survey gives us a clear picture of what is happening in our society, but when it comes to our policy-makers, we're worried the facts are falling on deaf ears."
Maureen Livingstone, Leader of the 1st Cullybackey Guide Unit added: "It's so important that we raise awareness of these issues, particularly with our elected representatives. The programmes and initiatives delivered through Girlguiding do so much to help our young members build confidence and resilience, but wider support is required.
"I'm so proud of our guides for taking the lead and voicing their concerns at Parliament Buildings. It is further proof that being part of Girlguiding Ulster – as a guide or a leader – can really make a difference by driving change."