The Team was shortlisted in the category of 'Acute Cardiology Team' and placed in the top three - a huge achievement given that a total of 22 other nominations were received in this category from across Ireland.
A small delegation from the Team attended the ceremony in Dublin to accept the award on behalf of their colleagues from the Acute Care Team.
Cardiology Operational Manager, Noel Black is really proud of the entire team.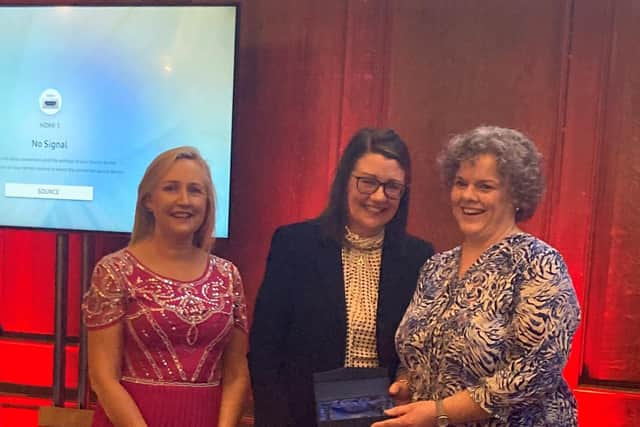 "The Cardiac Centres at the Ulster and Lagan Valley Hospitals provide excellent diagnostic and treatment services for cardiology patients within the South Eastern Trust area," he said.
"These services are delivered by a fantastic Multidisciplinary Team of Medical Staff, Nurses, Physiologists, Radiographers, Pharmacists, and Administration Teams. The teamwork is exemplary across this array of highly motivated, experienced, and patient focused professionals.
"Very well done to the Cardiac Team on receiving another award which recognises its excellence."
Consultant Cardiologist, Dr Patrick Donnelly added his congratulations. "Despite very stiff competition, everyone in the Cardiac Centre team have again had their work recognised on a national stage." he said. "Without their dedication and "can do" approach this achievement would not have been possible.
"A special thank you to our specialist doctors and nurses who, on a daily basis, deliver compassionate advice and timely treatment for our patients, who would otherwise be admitted to our Emergency Department, or languish on waiting lists.
"Finally I think that it should be recognised that without the South Eastern Trust's culture of empathy and patient centred care, innovations like the Cardiac Centre would not have been possible."
Ward Sister, Lauren Thomas added: "We as a multidisciplinary team are delighted to accept this award which is recognition for the high quality service that the Cardiac Centre provides.
"It is an honour to be recognised for the high quality patient centred care we deliver to our local community. I am proud of all the services provided by the team with particular reference to our Nurse-led services.'