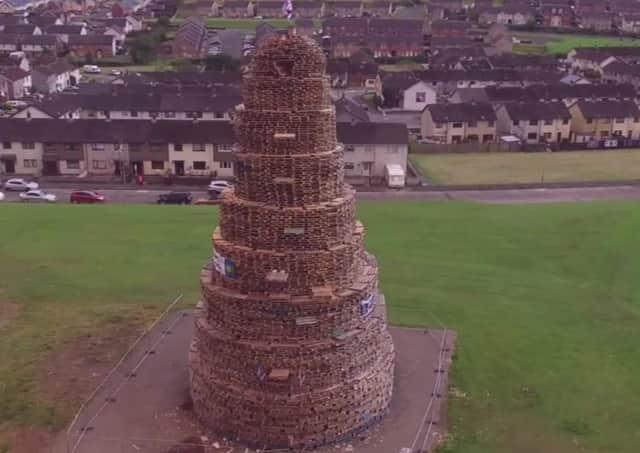 The decision was taken in recent days by the leadership of the Craigyhill Bonfire Committee in light of concerns about the elderly and vulnerable in their community and the prospect of a more severe lockdown in coming days.
"There is probably not going to be a Twelfth of July so instead of holding onto the money until next year, we decided we will just disperse it among the elderly people and whoever is housebound," committee secretary Jim Beggs told the News Letter.
They came up with the idea owing to "health and safety issues in the community," he added.
Last year, he said, the bonfire was roughly 134 rows of pallets high, equating to about 125ft or six storeys.
"It was the biggest bonfire in Northern Ireland last year. We nailed every third row to hold it steady."
He agreed there is substantial pride in his community, to have had what they believe to be the tallest bonfire in Northern Ireland last year.
And he affirmed that it is a huge statement for his committee and community to say they are effectively going to sacrifice it all this year because coronavirus has left members of their community especially vulnerable.
The leadership of the committee made the decision, which was widely supported, he said.
The committee had already spent £2,000 for 2000 pallets for this year's bonfire, but these will now be stored for a later date.
"That left roughly £8,000 in funds left over. So we have already bought in a lot of stuff and all the parcels will be distributed before the week in case we come to a lockdown."
They have ordered a substantial amount of milk, but this will be delivered over different time periods.
"There will be tea bags, coffee, pasta, biscuits, tinned food, beans, sugar, soap, toilet rolls, kitchen rolls," he added.
Asked if they were sacrificing the Twelfth, he replied: "Yes that is exactly what we are doing. We have a good community and they support us in what we do and the council also supports us pretty well."
A number of local shops have been crucial in making it happen, he said, ordering in the goods and facilitating them generally.
The committee has the manpower to distribute the food as they have around 30 volunteers. The money is mainly raised from a year-round lottery, Christmas raffles and functions and discos organised by the committee, he added.
In a Facebook post on Saturday, Craigyhill Community Development Group said the committee had starting bringing the supplies in.