'Don't give up' says woman with rare genetic disorder
A young Cookstown woman who lived with a rare genetic disorder for years before she was diagnosed, has said people in a similar situation should never give up and fight until they get an answer.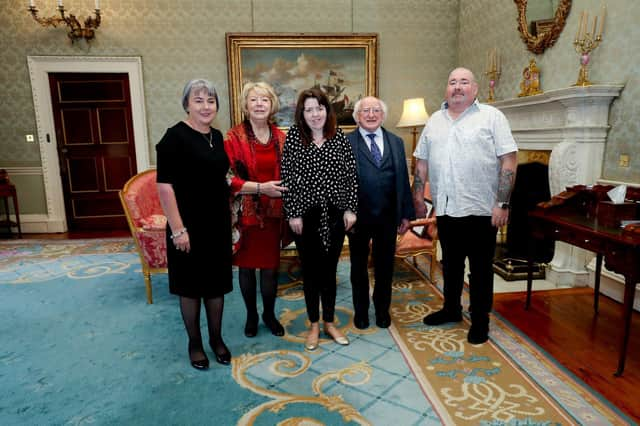 Twenty-three-year-old Aine Owens revealed she didn't find out she had 18p minus syndrome until she was 16.
She believes there is only one other person with the same genetic disorder in Northern Ireland.
"Don't give up fighting to find a diagnosis," she stressed. "There is support out there for you."
Aine travelled down with her mum, Teresa, and dad Paul to meet the Irish President Michael D Higgins in Aras An Uachtaráin to celebrate Rare Disease Day on February 29.
The visit was arranged by the charity Rare Diseases Ireland which helps people struggling with various disorders.
Aine was first diagnosed with speech dyspraxia and development delay while she was still at primary school.
"After P7 things went down hill as I acted differently and a lot of people thought I had autism, instead I had the rare genetic disorder called 18p minus syndrome," she explained.
She said she was diagnosed with the condition at the age of 16 following an MRI scan.
She described being told the news as "a shock but also a relief" because she finally knew what she had.
"So I did a bit of research and I found a charity down south called Rare Diseases Ireland and messaged them," she said describing them as "amazing people".
Aine, who has two older brothers, revealed she had been bullied at school because of her condition and had to attend a special school in Omagh.
She currently holds down two jobs - one in a retail premises in Cookstown and as a youth worker - and is also learning to drive.
She works with a group of young people in the area with learning disabilities and autism, which she really enjoys.
In the future, Aine said she would love to see a conference similar to the Rare Disease Ireland event she attended last month held to bring more people with rare genetic conditions together from Northern Ireland and the south to share and exchange their experiences.
The Cookstown woman added: "I know my genetic disorder is rare. I know of two people in the whole of Ireland who has it but I know I am not the only one in Northern Ireland with a rare genetic disorder. I would love to create more awareness around that and my learning disabilities."