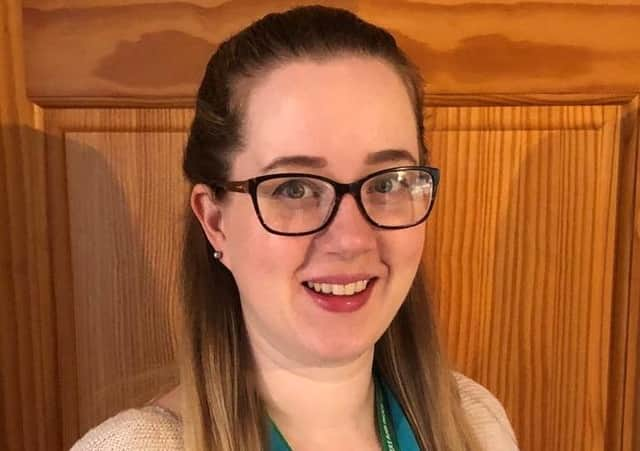 Amy has just joined the team at the Northern Trust having worked as a Macmillan professional in the same role in Wales for two years. She says that going through cancer can be a devastating experience at any time and Covid-19 is adding to people's concerns.
"Cancer can affect a person's whole life – their health, family, work and finances. Right now, many people are feeling even more anxious and worried as a result of the pandemic.
"It's important that people living with cancer know that we're here. Although we're not conducting face-to-face appointments, our service is fully operational and we can help people affected by cancer, as well as their family, friends and carers, by providing free, confidential support and advice by email, telephone and video call."
Amy says that the Macmillan service in the Northern Trust has been dealing with a wide range of enquiries from people who are concerned about cancer and coronavirus, as well as those who need help with financial worries and work, or have questions about emotional and practical support.
"Covid-19 is having a significant impact on the health and wellbeing of people living with cancer. People are feeling lonely and isolated, and managing emotions can be tough. We hear from people who don't want to burden their family and friends with their worries. It's a very difficult time.
"When people contact the service, we provide a listening ear and help them to access the information they need in the available format that suits them best. We provide a lot of emotional support over the phone, offering a listening ear and safe space for people to talk to us in a confidential way.
"I feel privileged that people share their stories with me and allow me to help, even in a small way. If I don't know the answer, I'll do my best to find it. I would reassure people that even though some services have been paused, some are still being offered in different ways and we try to be as up-to-date as possible with those changes.
"We can make referrals when needed, and work closely with Macmillan services such as the Move More physical activity programme and the Macmillan Benefits Advice Service.
"Information is key, especially at times like these, so I would encourage people affected by cancer in the Northern Trust area to pick up the phone on 028 9442 4000 (ext. 333079) or 077 9584 5435 or email us at [email protected] If you have questions about cancer, we can help."