Eurospar Moundview's new defibrillator will be available 24/7 for the local community which houses schools, churches and community centres. The device has been installed on the outside of the store, providing essential access even when the store is not open.
It means there are now two local Spar and Eurospar stores in Dromore with defibrillators installed, plus six further in the Lisburn area, one in Royal Hillsborough at Spar Hillsborough on Ballynahinch Street and an additional three in the Banbridge area.
The team at Moundview fundraised with their shoppers to have the defibrillator installed as part of Henderson Group's Heart of our Community campaign, an initiative to get Northern Ireland's largest network of external defibrillators installed right in the heart of both urban and rural communities.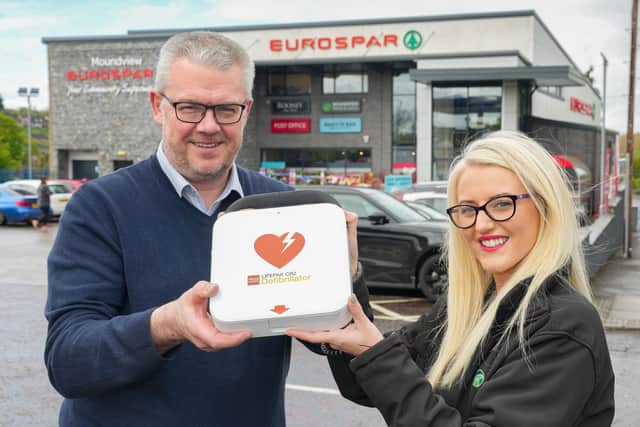 Paul Patterson, Store Manager at Eurospar Moundview explained; "We are delighted to be able to bring such essential equipment to our local community. Our store is used by shoppers and commuters every day.
"We're positioned right in the centre of Dromore amongst many organisations and businesses, so this is an essential bit of kit for our community to have readily available.
"We now just want to make sure that everyone knows it is here, it is available for them should it be needed, and is connected to the emergency services who will guide them through its use."