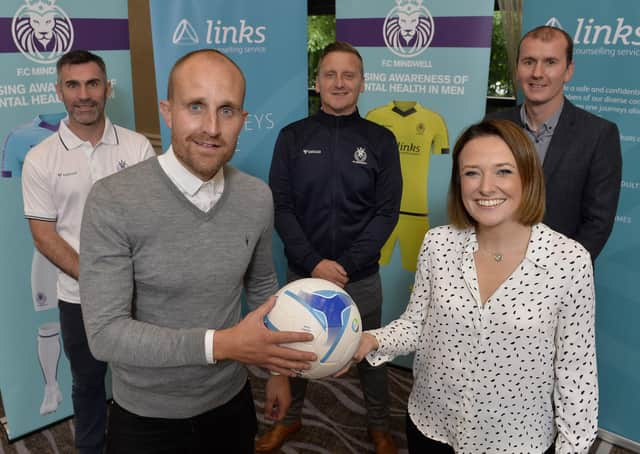 Ex-Northern Ireland winger Keith Gillespie, co-founder of FC Mindwell Brian Adair, former Irish League player Ciaran Feehan, Laura Wylie from the Links Counselling Service, and Glenn Emerson, co-founder and player
FC Mindwell was formed during lockdown when former Irish League player and manager Brian Adair called on the services of some of his footballing friends to join him, both on the pitch and off the pitch, in eliminating the stigma around mental health.
The team, which has former England goalkeeper Chris Kirkland as ambassador, will play in the third division of the Mid-Ulster League in the 2020/2021 season and will initially be based at Holm Park in Armagh.
Co-founder Brian Adair said: "It all started with a flippant comment among a bunch of guys who still had the desire to pull the boots on.
At the launch of FC Mindwell, Northern Ireland's first football club dedicated to helping people with mental health, ex- Northern Ireland hero Keith Gillespie and ex-Irish League star Ciaran Feehan and Laura Wylie from the Links Counselling Service, Mindwell FC's charity partner
"To begin with it's a very experienced squad. The door is always open for new players to come in. We want to promote what we're doing but we always want to promote youth as well. There's no age limit to mental health."
He said some of the players involved with FC Mindwell have had their own mental health issues: "It's something we've been able to talk about openly.
"Unlike maybe some other football clubs where the general man will mask it, this club and the ethos behind it gives players the safety net to talk about things and seek help.
"It's a blessing to have Links charity set up with us."
Laura Wylie of Links Counselling Service said: "When women feel suicidal statistics show that they tend to reach out for support. When men feel suicidal statistics show that they withdraw and don't avail of support. We think that plays a massive part in the statistic that men are three times more likely to die by suicide that women.
"FC Mindwell changes the culture of how we talk about mental health and how we break the stigma of reaching out for help."
Star signing Keith Gillespie said: "I retired about seven years ago because my legs were giving me problems. I'm not sure what I've let myself back in for, but I'm enjoying it so far."
The team managed by David Dawson won their first friendly match at the weekend. Their season kicks off next month.
Of lining up in Mid Ulster Leaguer Division Three, Keith said: "It's going to bit of culture shock to what I've been used to over the years. When I was playing football at a high level I was always told to play for as long as I could. I would have played on for longer if it wasn't for a bad knee injury.
"I've got that chance again to go out and play at a level which isn't as high as where I finished but it's something I'm really looking forward to.
"It's a great bunch of lads with a shared vision."