The family of 30-year-old Chris White who is in the Macmillan unit at Antrim Hospital suffering from a rare form of liver cancer says he has just weeks to live.
Chris, from Ballyhampton Road, in Larne, is a past pupil of Carrickfergus College. Prior to his illness, he had been working as a loss prevention officer with a leading retail chain.
A fundraiser launched to help provide financial security for his four-year-old daughter Naomi after his death has reached over £36,000 with the target £40,000.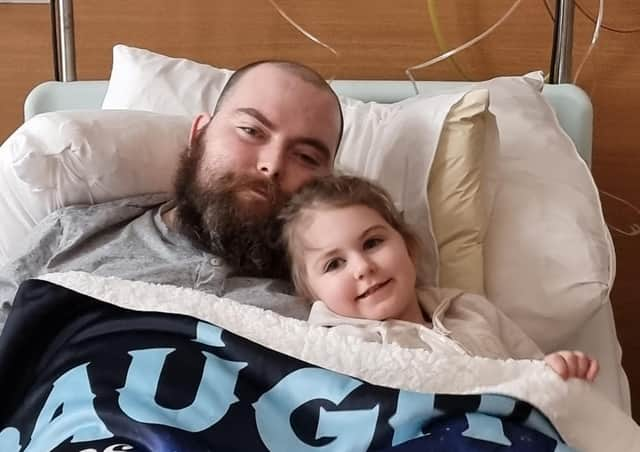 Commenting on her Go Fund Me page, Chris's sister Heather White, said: "His last wish is that he can pay off the rest of his mortgage or as much as he possibly can to leave his daughter Naomi a gift when she is older as he won't be around for all those special moments in her life.
"At 30-years-old, my brother should not be sitting planning his funeral, planning for leaving his young daughter and getting his will sorted, especially after it being so close to only losing our mum just over two-and-a-half years ago.
"As you can imagine, he is in absolute bits that he will not see his little girl go to primary school, secondary school, university possibly, get married, see his grandkids, none of the stuff we look forward to for our kids."
Chris was diagnosed with fibrolamellar hypnocellular carcinoma in July 2019 following an abdomen ultrasound when a ten centimetre mass on his liver was found to be cancerous. Only 300 people worldwide are diagnosed with this cancer every year and there is no known cure.
Heather explained: "Unfortunately, it had spread to his lymph nodes and surgery was not an option. He had started treatment, initially chemotherapy and underwent ten rounds of his first cycle before Covid hit in March 2020."
Heather went on to say that progression of the disease has left her brother in "excrutiating agony".
"He began working with the hospital to create a memory book and box for his daughter to remember her daddy as he knew that he wouldn't see the little person she would become," she added.
"His scan in November 2020 indicated that the disease had spread to his bones in the spine and he had a large fracture causing the pain.
"His daughter turned four in December and eight days after her birthday, he had another scan, this time indicating more spread to the lower and upper part of the spine.
"On February 1, he was admitted to A&E for pain and suspected infection in his lungs. On February 3, he was given the devastating news that the disease had spread to the lining of his lungs, causing inflammation. In addition, there were multiple fractures up his spine and the disease was beginning to constraint his nerves in his back and could result in paralysis.
"Basically, he is bed-bound, any movement could result in his spinal nerves being compressed, causing paralysis. As if this wasn't bad enough news, chemo would no longer be an option and he now only as a matter of weeks to live.
"I just want to say how amazed, grateful and totally overwhelmed we are at all the support, likes, shares, donations and kind words.
"Chris is amazed at how close he is to target and how much people care, so thank you all so much."
Click here to read: Carrick footballer's seafront endurance challenge in memory of granda
Thank you for reading this article. We're more reliant on your support than ever as the shift in consumer habits brought about by coronavirus impacts our advertisers. Please consider purchasing a copy of the paper. You can also support trusted, fact-checked journalism by taking out a digital subscription of the News Letter.