Limavady carer who transformed career after Covid nightmare honoured
A Limavady health carer has been honoured after transforming her career following a Covid-19 battle that left her fighting for her life in an intensive care unit.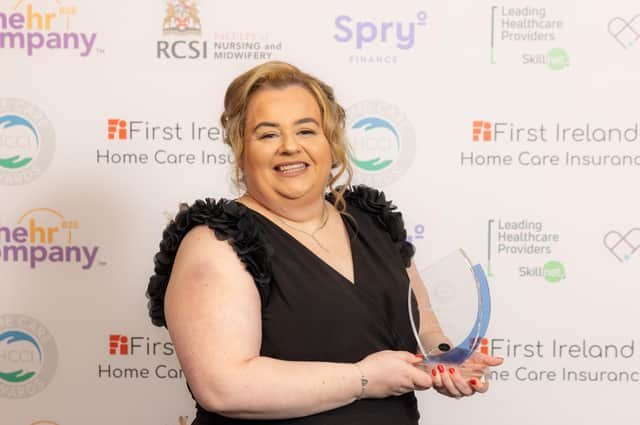 Mum and grandmother Louise Bell spent nine days in a high dependency unit and suffered permanent damage after contracting Covid.
Louise joined homecare provider Connected Health as a care assistant in 2018 and was soon promoted to a Senior Carer role. "I just loved the job, I loved making a difference to people who wanted to stay living in their own homes," she said.
When Louise first felt the symptoms of Covid, she took the prescribed lockdown precautions and isolated, later testing positive for the virus. Louise managed her symptoms for a week, but on the seventh day was advised by a nurse to go to hospital. It was then that her condition began to spiral out of control and she was referred to the high dependency unit at Altnagelvin Hospital.
"I felt as though I was suffocating on my own breath and could not even speak. I honestly thought I was dying. A consultant told me that the next three days would decide whether I would ever leave hospital again," she explained.
"Things did start to improve after several days, and I was finally allowed to go home after eleven days. The one thing that kept me going was looking at the pictures and videos of my then three-month-old grandson Jackson."
Louise had sustained nerve damage on the left side of her body and damage to her left lung. It was to take four months of rehabilitation before Louise was able to return to work. She was "delighted to be back" doing what she loved best, but the delight was short-lived. After just 12 weeks she was once again struggling to breathe and was this time diagnosed with pleurisy.
"I was so frustrated because all I wanted was to get back to work. Everybody at Connected Health was really kind and supportive. The company referred me to a doctor in Belfast who told me I would not be able to return to homecare duties for the foreseeable future due to the nature of my condition.
"I was devastated and cried the whole way home from Belfast that day. I did not want to give up my career and really loved working with Connected Health who were so good to me since I had joined them."
Undeterred, Louise applied for a temporary "front desk" position at Connected Health and was successful.
"I was really happy to be back at work, but still wanted to be directly involved in a role that helped people who needed care to remain in the comfort of their own homes. When a Co-ordinator (Scheduler) role came up shortly afterwards, I jumped at the chance."
In October, Louise was named as 'Scheduler of the Year 2023' at the Home and Community Care Ireland (HCCI) Home Care awards. "It's amazing to be given this award and I was truly grateful and shocked to receive it. It's the icing on the cake on top of the real reward of being able to do what I love best as part of the Connected Health team."