Customer Paul McClinton was attending early morning swimming in mid-January when he became very unwell - suffering a cardiac arrest.
Quick thinking leisure centre staff responded to the situation immediately and provided care and support – with crucial use of a defibrillator - to Paul until the arrival of an Ambulance crew, shortly followed by the Air Ambulance crew.
The Mayor of Mid and East Antrim, Alderman Noel Williams, recently welcomed the inspirational team to thank them for their quick actions.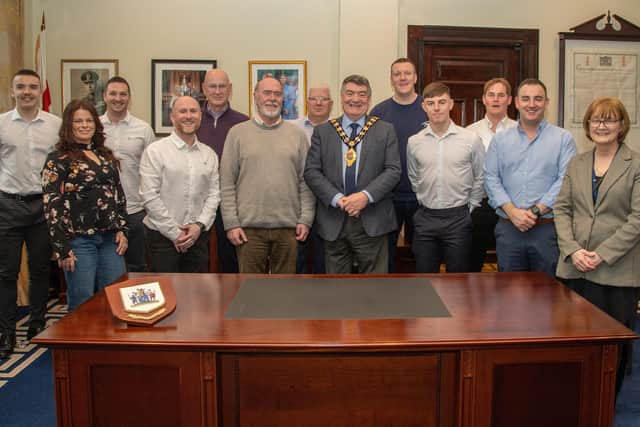 Paul also attended the Mayor's Parlour to meet the staff who helped in his hour of need and to thank them for all their help on that critical day.
Ald Williams, said: "I am extremely proud of the staff involved in this incident. These situations can be very frightening, but the professionalism and efficiency shown by those first on the scene was exemplary.
"Council is dedicated to ensuring relevant staff get the vital staff training sessions required to ensure that when they need to deliver lifesaving first aid - they can do so without hesitation and with confidence."
Staff involved in the response included: Ronan McKillop, leisure attendant rescue and first response; Darren McGinty, senior attendant; Terence Diamond leisure attendant; James Rea, duty officer (off duty in fitness room); William Glover, leisure attendant; Joshua Blair, leisure attendant; Gareth Hamilton, leisure attendant; Peter Gregg, duty officer; Louisa Crawford, receptionist and Claire Gillespie, fitness instructor.