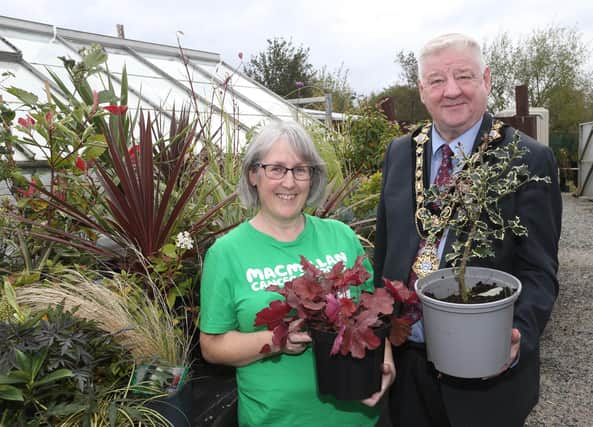 Mayor pays special visit to Macmillan horticultural project helping people living with cancer
The Mayor of Causeway Coast and Glens, Councillor Steven Callaghan, has paid a special visit to a local project providing much needed support to those in the Borough living with cancer and their families.
Published 27th Oct 2023, 16:22 GMT
Updated 27th Oct 2023, 16:23 GMT
The initiative, called 'Feel-Good Gardening', was introduced as part of Council's Macmillan Move More campaign, co-ordinated by Catherine King. While visiting, the Mayor and other participants had an opportunity to create their own planter.
Catherine has worked in partnership with Macmillan Fundraiser Andrew McClarty on this horticultural project based in Garvagh, and the duo were keen to showcase the ways in which this endeavour provides psychological support to people living with cancer.
The project has been such a success that Catherine herself has been nominated for an award for its introduction at Macmillan's prestigious Professional Excellence Awards which will be held in November this year.
Cllr Callaghan, who visited the project alongside Council's Chief Executive, David Jackson, said: "I was delighted to come along today to learn more about the well-being benefits this project is helping to deliver for those in the Borough living with cancer.
"It was fantastic to see the set up here and learn more about the participants, their families and how gardening has helped keep them active, while also providing much needed social interaction at this difficult time in their lives.
"I really enjoyed participating and creating my own planter which I have donated to Andrew for his Christmas Macmillan fundraising sale. I would like to thank Catherine, Andrew and the volunteers, without whom this project would not be possible."
Catherine added: "We'd like to thank the Mayor and Chief Executive for coming along today to see the benefits of this initiative. Gardening is an activity most people find enjoyable and the key to staying fit and active is finding something you enjoy and want to keep doing, and the 'Feel-Good Gardening' project helps deliver this for participants.
"Thank you to Andrew for sharing his gardening knowledge and for the use of his polytunnel and McCann Agricultural for donating the compost. We hope our project continues for many years to come."
The Move More project has enabled people living with cancer (Move More Participants) and their families to take part in a gardening session, under expert guidance and to learn about gardening from root to shoot while taking part in filling their own planter.
To get involved with Move More in the Causeway Coast and Glens Borough Council area, contact Move More Coordinator Catherine King at [email protected] or call 0759 7399 765.