This prestigious award is given to recognise and appreciate the incredible efforts of an inspirational Neo Natal Nurse who has made an extraordinary difference to the lives of their colleagues along with the babies and families that they care for.
Cathy works closely with her colleagues and provides breastfeeding training to ensure that mothers at all stages of their breastfeeding journeys feel supported and confident in their approach.
Cathy is very pro-active in her work and has developed a follow-up telephone discharge service for families to provide them with some much needed additional support after leaving hospital, she has helped bereaved mothers express breast milk to donate to the milk bank, is involved with numerous charities and enables quality improvement in her area of work to encourage positive outcomes for babies and their families.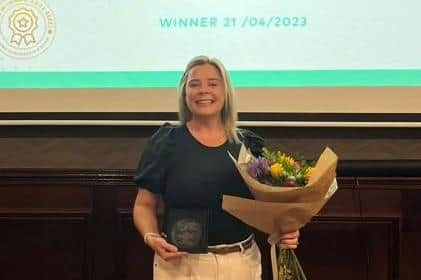 Celebratory events are always marked by Cathy with care, the annual Kangaroo-a-thon and World Prematurity days are celebrated with decorations, balloons and buns along with displays boards of photos that feature the Neo Natal Graduates going home from the unit for the first time since their birth and positive quotes. Cathy's fabulous displays have received a lot of great feedback and bring a glimmer of hope and joy to everyone working in or visiting the Maternity unit.
Cathy was nominated by Lead Neo Natal Nurse, Alison Bartlett, who described Cathy and her work by saying: "She constantly amazes me and surpasses my expectations.
"Cathy always goes that extra mile in all that she does and she always brings new and fresh ideas to the table promote breastfeeding.
"When we have an intensive care admission Cathy can always be found in the background, supporting families and staff.
"The simple act of making cups of tea and sharing a kind word has helped so many people to get through the difficult days. She is naturally compassionate and has become a familiar and friendly face for many families on their difficult journeys. She is very deserving of this award, we are all very proud of her."