Olivia, better known as 'Ma' in the comedy series 'Give My Head Peace', cut the ribbon at the Bluebell Café based at Gillaroo Nursing Home.
Congratulating everyone involved, Olivia said: "I have had a long association with the wonderful staff at the Gillaroo Nursing Home. They are always very friendly and welcoming, and I certainly look forward to making a return visit to the Bluebell Café."
A Northern Regional College (NRC) lecturer, inspired by a Netherlands study visit, was the driving force behind mentoring learners in their project to open what is believed to be the first dementia friendly café in the Mid and East Antrim Council area.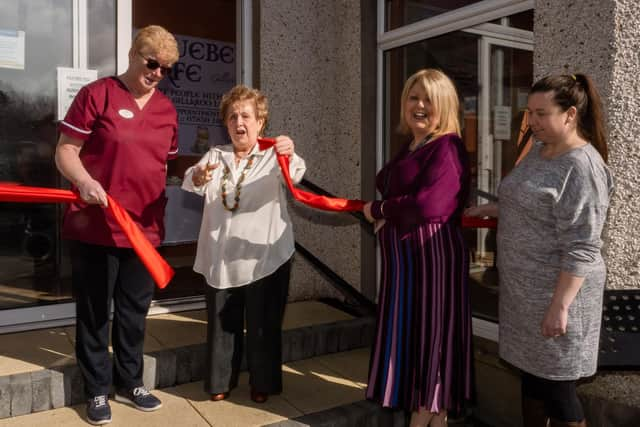 Jacqui McAllister, Health and Social Care lecturer, said: "During my study visit to the Netherlands, I saw examples of best practice and how dementia had been 'normalised' by providing welcoming, safe places for people with dementia and their families. As a result, many people living with dementia were on less medication and there is growing evidence to show that their behaviour had become less challenging as a result.
"Depending on the type of dementia, it can affect people in different ways. The impact can be physical, emotional and or psychological, and it can also lead to a significant change in the practicalities of everyday life.
"I realised that we needed to create a new dementia care pathway and, as a first step towards creating a greater awareness around dementia, the college has introduced part-time Awareness of Dementia Level 2 training courses, both at our Newtownabbey campus, as well as online.
"The courses are designed to give people an improved understanding of dementia, to recognise the signs and symptoms of dementia and how to care for someone with dementia.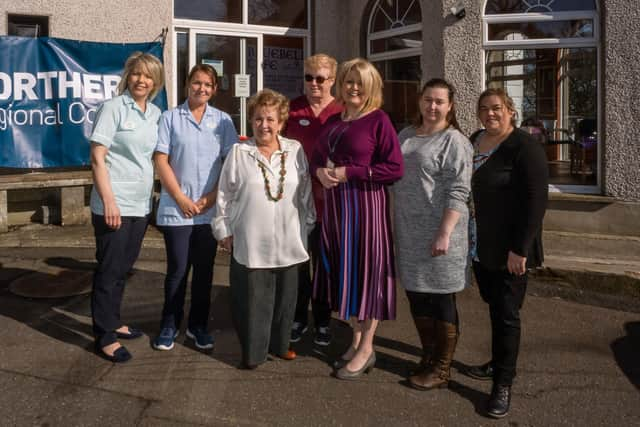 Improve Services
"The Level 2 courses incorporate recommendations from the Department of Health's regional strategy for "Improving Dementia Services in Northern Ireland, which draws on best practice here and makes recommendations to improve the services and support arrangements for people with dementia, their families, and their carers."
Staff at the nursing home have completed the Dementia Awareness training at the college. Thanking the NRC team for their help, Nikki McCrudden, Gillaroo Nursing manager, said: "We were delighted to avail of the training delivered by the college to help raise awareness of dementia among our staff.
"With over 20,000 people with dementia in Northern Ireland, there is a lot of work to be done to create dementia friendly communities and our café is a step in the right direction. Sometimes people just need a little extra support to go about their routine and this will be a safe and comfortable space for them to meet and socialise."
Initially the Bluebell Café will open on the second Tuesday of every month and if there's sufficient demand, the opening hours may be extended. To avoid disappointment, book in advance via telephone on 028 2826 0033.
The training provided by NRC for Gillaroo Nursing Home was funded by the Department for the Economy under the Skill Up – Flexible Skills Fund and InnovateUs programmes.
Eoin McGahon, technical specialist with the college, explained: "The innovative aspect of the project was to encourage greater use of IT for booking, social media and business management."