This project will give families a special place to visit to quietly reflect and remember their precious children. The 'Woodland Tree Planting Project' is located in the Billy Neill MBE Country Park, a beautiful location close to the Ulster Hospital. The trees have been planted on an elevated plot overlooking the lake.
This project has opened up the opportunity for the South Eastern HSC Trust, the Forget-me-not group and the Lisburn and Castlereagh City Council to work in partnership with each other in the planning and implementation of this project.
Council employee Gill Bann has been instrumental in the development of this unique memorial, working alongside her close friend and South Eastern HSC Trust Maternity Sister, Katherine Robinson.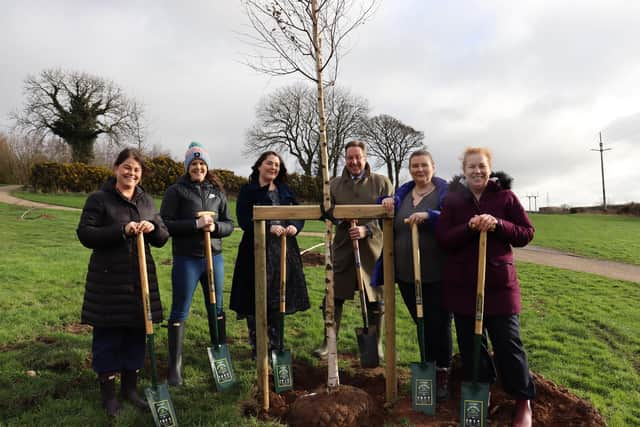 This will be ongoing project for bereaved families, there is room to plant 100 native trees at the site and the Council have suggested other areas of land that can availed of in the future, including a plot of land in the Lisburn area.
The woodland area has been a long sought after dream for Bereavement Midwives, Jacqueline Dorrian and Susan Stitt. They explained: "The memorial tree is a physical reminder for families that their child's legacy continues even after their passing. We would like to convey special thanks to Gill, Katherine and James Rodgers, along with his entire team in the Lisburn and Castlereagh City Council for all of their help, guidance and hard work in making this project a reality."
A special Hazel tree has also been planted in memory of beloved Midwife, Hazel McCalister who sadly passed away in 2021.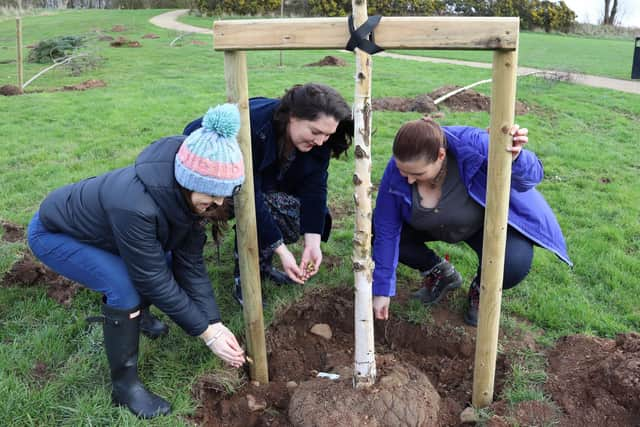 Hazel dedicated her life to midwifery and caring for parents and babies so it is fitting that her tree will overlook and protect all trees planted to represent the precious babies that have died. Hazel's husband John chose the tree to be planted in Hazel's memory and he brought their daughter Amy along to help him plant the tree.