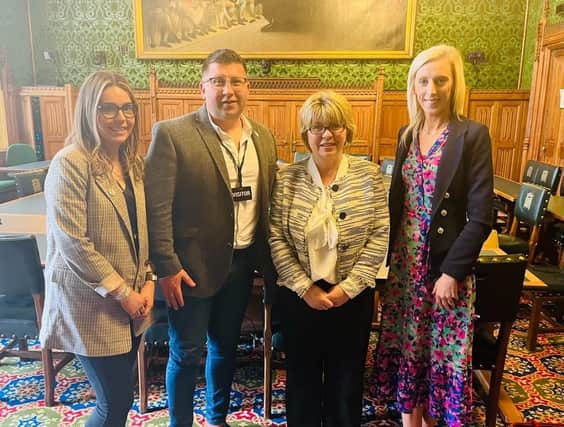 'Positive' meetings at Westminster as Adam's parents campaign for change
BANBRIDGE couple and childhood cancer campaigners, David and Sara Watson, had a series of "very positive" high-profile meetings at Westminster last Wednesday.
Published 18th May 2023, 09:51 BST
Updated 18th May 2023, 09:51 BST
Their aim is to continue pushing for 'Adam's Amendments', which would see a change in the current benefit system for families of children diagnosed with cancer, specifically reducing the current three-month wait in being able to apply for DLA following a cancer diagnosis.
The Watsons, representing their son Adam's charity B Positive, attended back-to-back meetings which had been arranged by Upper Bann MP Carla Lockhart.
Speaking afterwards, David Watson said: "We got to spend time with a number of MPs who all saw merit in our fight for change, and all vowed to push our cause and bring it to the relevant parties.
"First up was Maria Caulfield MP, a parliamentary Under Secretary for Mental Health and Women's Health strategy. Then, Andrew Qwynne MP, Shadow Minister for Public Health.
"Next, was Secretary of State for Northern Ireland, Chris Heaton Harris MP. As well as the benefit change, we also questioned the new children's hospital at the Royal, which he said he would look into.
"Lastly, was Peter Kyle MP, current Shadow SoS for Northern Ireland."
The Watsons also met with representatives from the charities Children with Cancer UK and Young Lives vs Cancer, who they hope to work with going forward.
And, they got the opportunity to sit in on Northern Ireland Questions and Prime Minister's Questions, which they described as "quite the experience".
"Turned into a busy, but very positive day in Westminster," the couple said on social media.
"Thanks to our good friend Carla Lockhart MP for all her help."