World Breastfeeding Week: PHA highlights importance of supporting breastfeeding mums at every stage of their journey
The Public Health Agency (PHA) is highlighting the importance of supporting breastfeeding mothers at every stage of their journey during World Breastfeeding Week (August 1-7).
Watch more of our videos on Shots! 
and live on Freeview channel 276
Visit Shots! now
The health body is showcasing the experience of breastfeeding mums and speaking to those who have supported them on their journey.
Between 2010–2020, the rates of breastfeeding in NI at discharge rose from 45% to 50%; however, there is a big drop off with only 21% of babies receiving breastmilk at 6 months.
Feedback indicates this is often because there is a lack of support, particularly when feeding outside the home, with 9 out of 10 mothers stopping before they intended.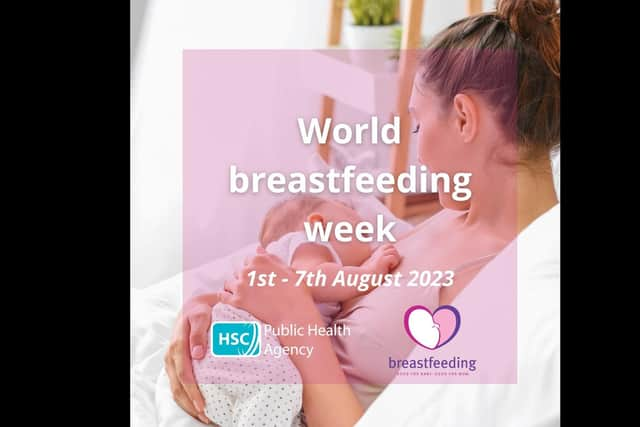 Dr Hannah McCourt, Senior Health and Social Wellbeing Improvement Officer at PHA, said: "Breastfeeding offers your baby the best start in life and can be a very rewarding experience. As well as having all the nutrients your baby needs to grow and develop, human milk has very special ingredients such as antibodies, hormones and stem cells to help protect your baby now and in the future.
"The greatest benefits are to be gained by feeding your baby breastmilk and nothing else for the first six months of life, and then continuing to breastfeed after your baby starts taking solid food. But any period of breastfeeding at all, however short, will benefit you and your baby."
In the new video series, PHA speaks to five breastfeeding mothers and their support network to share their experience and discuss what helped them continue breastfeeding for longer.
One mother, Louise Cooper from Newtownabbey discusses how her husband, Darrach and other family members supported her throughout her journey of breastfeeding her son, Cassan.
Louise said: "Darrach would be very good when I was thirsty or wanting food when I was feeding Cassan, he'd be there to get me those things. He was that person to do everything for me.
"Even the likes of my mother in law who's just so enthusiastic and supportive about the whole thing. Or my mother who just treats you as if it's normal, they will continue a conversation with you and ask you if you need anything, that really does help."
It can take a few weeks for a mother and baby to get used to breastfeeding and it's a skill that is learned over time, according to Dr McCourt. "We all have a role in supporting breastfeeding mothers, creating a supportive environment makes continuing to breastfeed more likely," she added.
Community based resources and facilities are key to providing ongoing support to breastfeeding mothers.
Once mothers and their babies leave hospital, support is available from their community midwife and health visitor.
There are more than 100 breastfeeding support groups across Northern Ireland and mothers can avail of the service provided by peer support volunteers, who are mothers that have breastfed, offering mother-to-mother support to those on their breastfeeding journey.
There are also breastfeeding counsellors across Northern Ireland who have been trained to provide extra support if needed, along with specialist support services within each Health and Social Care Trust – just ask your midwife or health visitor.
The PHA also operates a Breastfeeding Welcome Here scheme in Northern Ireland. This helps show community support for breastfeeding, with businesses, council facilities and popular tourist attractions signed up to show their support for breastfeeding mothers.
The venues have pledged to welcome breastfeeding mothers and agreed to display a pink window sticker and certificate showing that they are members of the scheme and mothers are welcome to breastfeed their baby there, with staff trained to be supportive of mothers on the premises. This can often relieve pressure for a mother by showing there is a friendly environment where the needs of a breastfeeding mother will be met.
Dr McCourt concluded: "It's really important to support breastfeeding mothers at every stage of their journey. Breastfeeding has so many benefits for both mother and baby and the longer you breastfeed, the longer the protection lasts.
"Breastfeeding is normal, no matter where it happens. When fathers, partners, families, workplaces, and communities show their support, mothers are more likely to continue breastfeeding for longer. This is something that we are beginning to see happen more often which is great, and we'd like to see this continue."
Visit the PHA social media pages on Facebook, Twitter and Instagram to watch the brand-new video series during World Breastfeeding Week.
World Breastfeeding Week also coincides with Breastival 2023, a unique, award-winning festival which aims to support, normalise and celebrate breastfeeding as part of everyday life in Northern Ireland.
To find out more about supporting a colleague, friend or family member on their breastfeeding journey, visit www.breastfedbabies.org for information and advice.
The packs consist of a cool bag, milk collection bottles, a water bottle and an ice pack allowing mums to express their milk during the day while at work.
Community Infant Feeding Co-Ordinator, Kelly Leonard said: "This year as part of World Breastfeeding Awareness Week, we are promoting and supporting those mums who wish to continue their breastfeeding journey when they return to work.
"As a Trust, we want to ensure that we are providing support through the provision of the packs, so that mums can continue to breastfeed for as long as they wish."