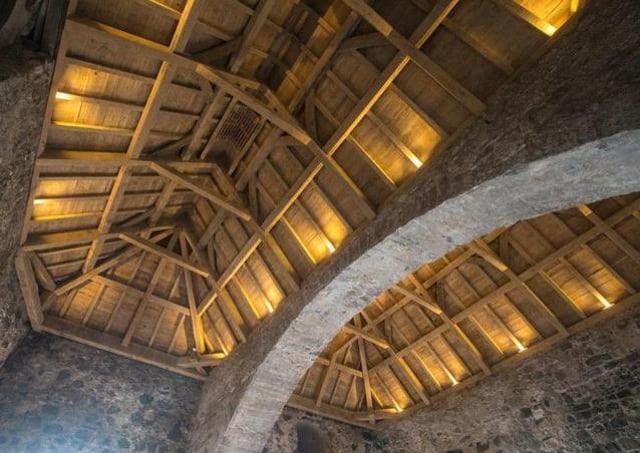 The replacement roof in the Great Keep.
The £1million initiative saw the roof of the Great Keep renewed with a historically appropriate open oak truss design, constructed using traditional techniques.
Conservation was a key aspect of the scheme, with the main trusses of the roof made from unseasoned Irish oak trees that fell naturally during Storm Ophelia in 2017.
Exterior of the new roof. Pic Brian Thompson
Designed by Alastair Coey Architects in partnership with Kennedy Fitzgerald Architects for the Department for Communities Historic Environment Division, the complex project received a trio of awards from the RSUA.
These included the RSUA Award, RSUA Sustainability Award and RSUA Client of the Year Award 2021.
Meanwhile, a project to ensure continued use of Queen's University Belfast's Lanyon building was also recognised with design and conservation awards.
In a statement, the RSUA said that the conservation architects, structural engineers, carpenters, and lead workers responsible "should be applauded" for their work in restoring the Great Keep.
Judges noted how the work was completed in a sustainable way with a low carbon footprint and little need for maintenance.
This aspect was combined with a high level of historic detailing, utilising traditional materials and skills.
An 800-year-old landmark, Carrickfergus Castle is one of the most complete examples of Norman architecture in Britain or Ireland.
It has been in state care since 1928 and is managed by the Historic Environment Division within the Department for Communities.
The works were intended to help safeguard the Great Keep for the future, ensuring that the monument can continue to be seen, accessed by the public, and enjoyed.