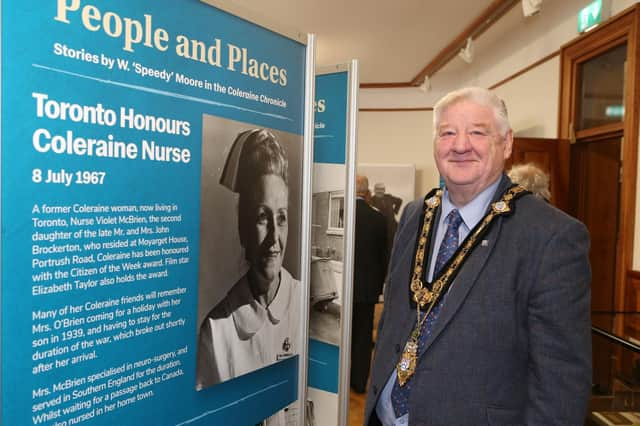 Council's Museum Service presents its new free exhibition 'People and Places' in Coleraine Town Hall
The name 'Speedy Moore' is synonymous with Causeway Coast journalism and now the Mayor has opened an exhibition dedicated to his writings.
Published 27th Sep 2023, 10:01 GMT
Updated 27th Sep 2023, 10:01 GMT
Coleraine Museum's new exhibition, 'People and Places' looks back at the popular newspaper column written by the well-known journalist William 'Speedy' Moore, first published in the Coleraine Chronicle in 1962, finishing in 2007.
The Mayor of Causeway Coast and Glens, Councillor Steven Callaghan said: "I was delighted to open this new exhibition. Speedy's stories in his People and Places column are an important part of the Borough's social history focussing on members of the local community.
"It offers visitors the opportunity to look back on the everyday lives of people in the Coleraine area including street cleansers, teenage dance goers, and singing shop workers. I'd encourage everyone to come along and see this interesting and enjoyable exhibition for yourselves."
Visitors will have the opportunity to view objects from Coleraine Museum's collection, including a ledger from Gribbon's Linen Mill dated from 1914-1959, where Speedy's mother was employed. Also on display is the trowel used to lay the foundation stone of The Honourable the Irish Society School in 1867, where Speedy attended school.
Running alongside the exhibition, visitors can also enjoy a heritage talk from Maurice Bradley on the history of the Chronicle and Constitution, in Coleraine Town Hall on Thursday, October 5 at 7:30pm. On October 10 at 2pm and October 19 at 11am, in partnership with Libraries NI, visitors can join a guided tour of the exhibition, followed by a tour of the Heritage Room in Coleraine Library, with the chance to learn how to carry out your own newspaper research.
The exhibition will be open until Saturday, December 9 in Coleraine Town Hall, Tuesday to Saturday, 11am-4pm. Events and admission to the exhibition are free. For event bookings and more information please email [email protected] or telephone Ballymoney VIC on 028 2766 0230.