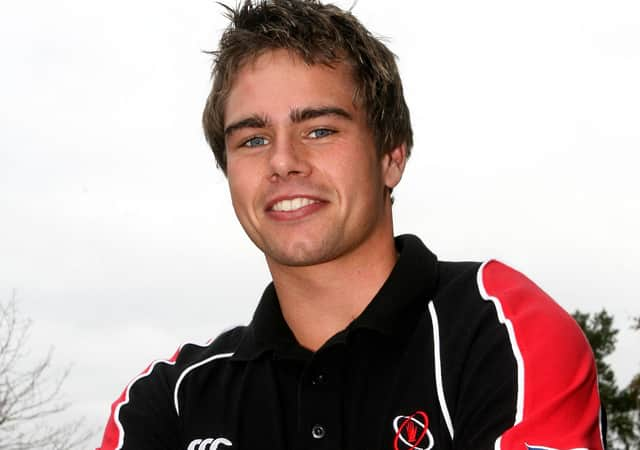 Kirk Frame, a Year 14 pupil from Cambridge House Grammar School, who was selected to represent Ulster U19's in the Inter-provincial tournament in Limerick. BT43-219AC
Take a look back at the good old days with our selection of photographs from the paper's archive.
More every week in the Ballymena Times.
Tim Jackson and Glenn McGivern, Year 14 pupils at Cambridge House Grammar School, who won the Northern Ireland Final of the World Mental Health Day Inter-Schools Public Speaking competition. The boys beat very stiff competition from other regional finalists. Tim and Glenn, displaying their trophies from the event, received a free two day workshop at Cinemagic, a £50 HMV voucher and and a certificate from the Royal College of Psychiatrists. BT43-218AC
If you have any old photographs that you would like to share with our readers, we would love to hear from you.
Do you have photographs from school? Maybe a sports team you played on? Or a special event that was a special memory?
We would love to see them. Send any old photographs, together with any details you have about the photo, to [email protected] and we will use as many as we can in the paper.
*Note: Some pictures may have been cropped for web publication purposes.
Ballee Community High School students Scott Young and Megan McClements and their teacher Mr Murdock who will join two students and staff from St Patrick's College as part of the 'Parlez-vouz rugby' festival in France in October. BT39-171CS
Christopher Shannon gets face painting from Beverly McMaster at the fundraising car boot sale at Cullybackey High School, as looking on are Trudy McLaughlin and Amy Greer. BT24-227AC
Cullybackey High School students Alex Moore, Andrew Gillespie, Ryan Millar and Cameron Williamson who took part in the schools 'Fibonnace' Maths Fun Day. BT24-120JC