IN PICTURES: Take a look through the Times' archive
Take a look back at the good old days with our selection of photographs from the paper's archive.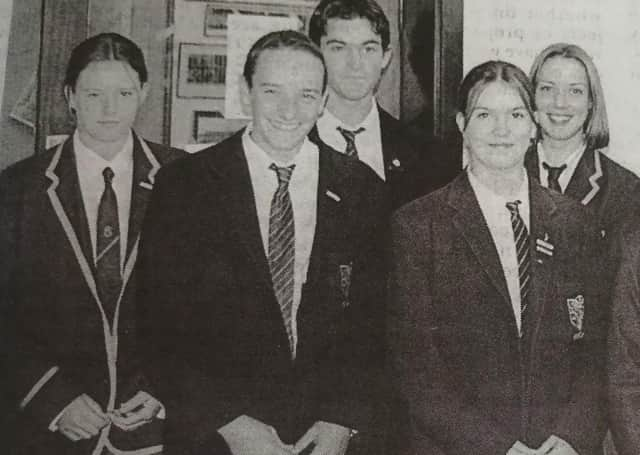 1997-98 House Prefects at Belfast High School1997
More every week in the Larne, Carrick and Newtownabbey Times.
If you have any old photographs that you would like to share with our readers, we would love to hear from you.
Do you have photographs from school? Maybe a sports team you played on? Or a special event that was a special memory?
Busy sorting trays at Doagh Primary School are Adam, Claire, Jenny, Chelsea, Stephen, Rhys. 1997
We would love to see them. Send any old photographs, together with any details you have about the photo, to [email protected] and we will use as many as we can in the paper.
*Note: Some pictures may have been cropped for web publication purposes.
Members and Guests at the annual Carrickfergus Round Table Dinner Dance. 1991
Donal McCaughey, manager of Connors Chemist Larne presents a voucher to Stephen McAllister of Ballycraigy Ring - the winner of the Times portrait competition - with his mum. Included is Peter McCormick who was third with his mum and Times advertising exec. Pat. 1992
Members and Guests at the annual Carrickfergus Round Table Dinner Dance. 1991
Members of Carrick Lions Club with their wives at the annual Charter Dinner Dance,1991
Donal McCaughey, manager of Connors Chemist Larne presents a voucher to Stephen McAllister of Ballycraigy Ring - the winner of the Times portrait competition - with his mum. Included is Peter McCormick who was third with his mum and Times advertising exec. Pat. 1992
Betty, Ruby, Eileen and Margaret at the Old Tyme Dance in Craigyhill Social Centre. 1992
Some of the organising committee at the Linn Community Centre. 1992
Ashleigh, Claire and Elaine were trophy winners at Larne and Inver School Sports Day. 1992