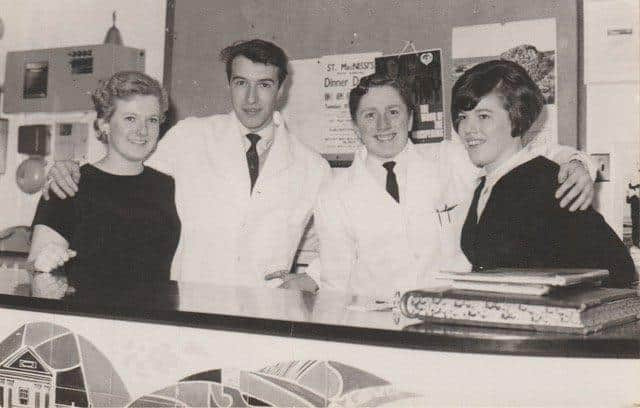 Behind the reception desk in the King's Arms Hotel in 1967-68. Anna ? (receptionist), John Bell, waiter / porter, Frank Cosgrove (?) and restaurant waitress Sinead. Gareth Jones recalls that Sinead knitted superb Aran jumpers and cardigans. "My father had his for many, many years. He used it when he was working in the cellar of our pub in Wales and said it was like wearing a blanket. He wore it for so many years and was heartbroken when it eventually wore out!" said Gareth.
Gareth Jones, who served as assistant manager of the hotel in 1967-68, was having a clear-out of his attic in his home in Bangor when he discovered the collection of pictures.
Memories of his time in the hotel came flooding back, along with some head-scratching moments as he tried to put names to the faces.
"The photos are mainly of staff who were nearly all local to the Larne area," explained Gareth, who is originally from Wales.
He hopes that by sharing the photos with readers of the Larne Times, he will help roll back the years for anyone who frequented the King's Arms and might even encourage some former colleagues and friends to get in touch with him after all this time.
Check out the gallery of Gareth's photos here.
One of the fun moments revealed through Gareth's old photos was the time when an "operation" was carried out in the hotel.
"One of the lads had found an old tailor's mannequin lying around and someone decided to perform an operation on it," he recalled.
"The operating theatre was organised in one of the rooms overlooking the Main Street, if I recall correctly. Tomato sauce, which was used for blood'and a carving knife were acquired from Pat's kitchen and one of the arms was amputated.
"Why we did it, I don't know - just a bit of fun, I suppose!" he said.
While memories like this reminded Gareth of mischievous colleagues and friends and the laughs they had together, he also remembers his time in Larne as being a busy one, with the town and surrounding area bustling with visitors and holidaymakers.
"I also have photographs of the coach drivers and guides who took tourists around the country during the very busy summer seasons," he said.
"We had lots of tourists, especially from Scotland and the north of England, with four or five or coach-loads at a time in the company which also had its sister hotel, McNeill's further up the Main Street.
"The Laharna also did coach tours, so Larne was a very busy town in the early-mid 60's," Gareth recalled.
"I remember the time very well as I had only arrived in Northern Ireland on January 1, 1967 on a three-month contract. When my contract ended I was offered a job at the King's Arms and have been in Northern Ireland ever since - now 54 years.
"I have many fond memories of the staff and showbands in the large dance hall at the back of the hotel. Unfortunately I don't have any any photos of the showbands or the interior of the hotel," he said.
Gareth remembers a number of other members of staff including general manager George Moore, who he said would often be seen at the front door of the hotel during busy times.
He also recalls head chef Pat Marshall and his sister Anne, who Gareth said also worked in the King's Arms as a waitress; Mary McGavock who was in charge of the coffee shop; head bartender John Black and his assistant John Heagney; head receptionist Bridie McKeown and Mary McCallion who worked in housekeeping.
He also recalls the names of some regular customers such as Mr and Mrs Ernie McMurtry, Hubert Esler and Mr and Mrs McClean and their son who would visit the hotel for Sunday lunch on regular occasions.
"I also remember a Mr Hall, a very quiet gentleman who appeared nearly every day for his lunch. He had a jewellers shop and I recall he engraved my initials on a signet ring my mother had bought me for my 21st birthday which I still wear to this day," said Gareth.
If you remember Gareth from his time in the King's Arms, or if you have information about any of the people in his photos he would love to hear from you. He can be contacted by email: [email protected]
Do you have any more photos from the days of the King's Arms Hotel?
Maybe you used to work in the hotel, or perhaps you enjoyed some good nights out or special events in there?
We'd love you to share your pictures with us to help roll back the years to when the hotel was a popular landmark in the town centre - and rekindle a few memories.