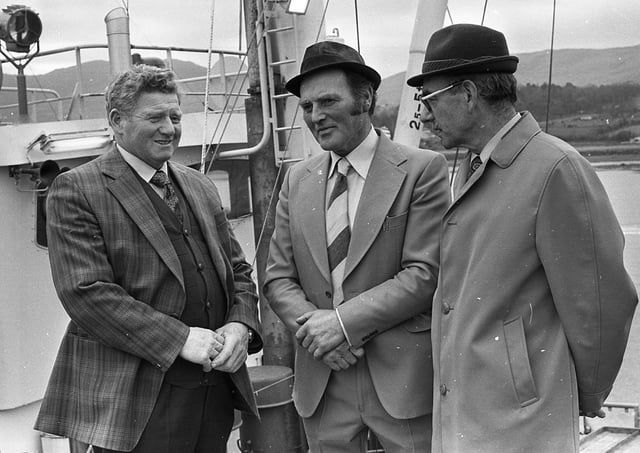 Mr Harold Bullock, right, chief executive of the NI Seed Potato Marketing Board, with Mr William Forsythe, a potato producer, and Mr Jay Semple, chairman of the UFU potato committee pictured at Warrenpoint harbour at the end of April 1980. Picture: News Letter archives
At a ceremony in the Midland Hotel, attended by leading agriculturists, copies of a memorial volume, produced by the McGuckian Memorial Committee, as a tribute to his life's work, were handed over to Mrs McGuckian and other members of the family.
The Prime Minister, Lord Brookeborough. presented Mrs McGuckian with a portrait of her husband.
The volume was the work of Mr Frank McKelvey, RHA.
A new labour-saving method of loading potatoes for shipping was used for the first time at Warrenpoint harbour at the end of April 1980. Here we see potatoes being slung into the hold of a ship at Warrenpoint for the Middle East market. Picture: News Letter archives
Mr Brian McGuckian Mr Gerald McGuckian and Mr P McGuckian were presented with copies of the portrait.
Lord Brookeborough announced that the first award of the "Belfast Telegraph Cup for an outstanding contribution to agricultural discovery and betterment", would be made posthumously to Mr McGuckian, who had died four years previously.
The Prime Minister, describing Mr M'Guckian as a great Ulsterman, said that he had made a mark in the agricultural industry and put his skill and knowledge to the benefit of farmers.
Watching the loading of the potatoes are Mr Dan McCormick, DANI inspector, Mr Austen McNeill of Hugh T Barrie and Company, and Mr Frank Espley of the Ulster Farmers' Union pictured at Warrenpoint harbour at the end of April 1980. Picture: News Letter archives
The Minister of Agriculture, handing over the memorial volume, referred to Mr McGuckian's achievements and said that he had been "a great pioneer" who was always on the quest for something better.
He said that the book, which contained "expert, practical information and advice on pigs and grass", would be of great value to farmers and enshrine that "questing, seeking, constructive spirit of Sandy McGuckian".
At the outset, Professor A E Muskett, chairman of the Memorial Committee, who presided, said that they had wanted the book to get into the hands of every young farmer.
"If it helps to put up the standard of their farming by a fraction our work would have been worth while," he said.
Pictured here during a busy week for farmers sowing barley at the end of April 1980 is Co Down farmer Tony Rice of Cargary, Jerrettspass, Newry, Co Down, discing barley ground. Picture: News Letter archives
He pointed out that subscriptions for the memorial fund had come equally from Northern Ireland and southern.
Senator P F Baxter, chairman of the Eire Senate; Dr Henry Kennedy, secretary Irish Agricultural Organisation Society, Dublin, and Mr A G Algeo, ex-president of the Ulster Farmers' Union, also joined in the tributes.
Mr Brian McGuckian, returning thanks, said that he hoped the book would prove valuable to young farmers and contribute further to agricultural progress.
Pictured in March 1991 at the Automart in Portadon is Mark McKelvey from Omagh with one of the Simmentals which were on show. Picture: Farming Life archives
He thanked Professor Muskett, Mr G B Newe, secretary of the memorial committee, and all who had helped.
Miss R McGuckian presented Professor Muskett with a gift to mark the family's appreciation of his services.
Those present were the guests of Mr Brian McGuckian at luncheon.
They included Sir Anthony Babington, Sir Robert Gransden, Mr H W West, MP, president, and officials of the Ulster Farmers' Union, the president, Miss Joan Dobbs, and officials of the Young Farmers' Clubs; the Ulster Agricultural Organisation Society, and other agricultural interests in Northern Ireland and Eire.
The News Letter's agricultural correspondent reported: "The memorial volume is a worthy tribute to 'Sandy' McGuckian, who helped to revolutionise 
pig farming in Ulster, was a pioneer in grassland management and inspired all with whom he came in contact.
"He shared his skill and vast knowledge to the benefit of his fellow farmers, many of whom applied McGuckian methods with success on their farms."