German air raids came as a shock for many who believed they were safe
In total there were four German raids on Belfast in the months of April and May 1941.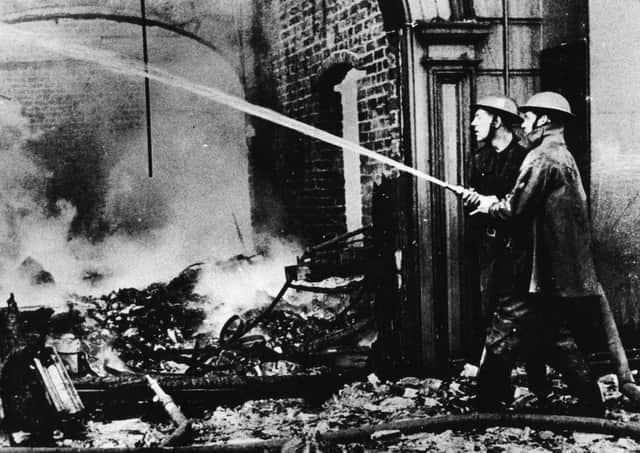 Soldiers try to make safe blitzed premises in Belfast after the May 4/5, 1941, raid by the German Luftwaffe. Picture: News Letter archives
Throughout this time the News Letter continued to published editions which captured for posterity the fear, the grief and the anger which enveloped the city.
'Raids and Counter-raids' (News Letter editorial, Wednesday, April 9, 1941)
"Northern Ireland's long immunity from serious air-attack ended yesterday morning with a sharp raid of some hours' duration, during which, unfortunately, a number of casualties, some of them fatal, occurred.
Citizens of Belfast queue outside recruiting office in Belfast during the Second World War. Picture: News Letter archives
"Incendiary and high-explosive bombs were dropped on various parts of the area involved, and some damage to property was caused.
"It was a small-scale visitation, which came simultaneously with other attacks upon various parts of Great Britain, and may be regarded, doubtless, as an indication that Hitler's spring offensive has begun.
"Apart from the fact that one of the attacking aircraft was shot down, the raid revealed our defensive and precautionary arrangements in a favourable light, as well as demonstrating that the community can be relied upon to withstand such experiences with the same fortitude as the people of Great Britain."
The editorial continued: "Doubtless the raid came a shock to such people who had thought, and, apparently, believed, that the German Luftwaffe, with more important industrial centres elsewhere to engage its attention, was unlikely to attack Northern Ireland.
A blitz damaged building in Belfast in 1941. Picture: News Letter archives
"That illusion has now been shattered, and the community whole, realising – as it must – that other and worse raids may follow, can be expected now to co-operate much more readily with the authorities in precautionary measures. Only thus can some of the worst consequences of air-attack be avoided."
House wrecked – Children under table (News Letter, Wednesday, April 9, 1941)
The News Letter reported that hundreds of windows were broken in one district of the city
"A small parlour house occupied by Mr S Kirkwood was wrecked by bomb, the entire front being blown out, leaving part the roof and the first floor hanging in the air.
"By a sheer miracle none of the residents was seriously injured. Two young children of Mr W McIlwaine, who lived next door, were sheltering beneath a table when the bomb fell. The younger, a girl of about two and a half years, was carried by a rescuer to the first aid post for treatment.
"It was found, however, that the child was little the worse for the experience.
"She suffered from shock and was covered with soot and lime."
The News Letter's report continued: "A short time later Mr Mcllwaine brought to the post the other child, who also had miraculous escape. Here again first aid was applied. Mr McIlwaine, it was noticed, was suffering from an injury to his leg, but he declined to be treated until he had returned to his wrecked home to see whether his wife was safe.
"It was learned later that she had escaped without injury."
The raid on Belfast on Easter Tuesday, April 15, 1941, was by far the worst of the four German attacks. Some 200 Luftwaffe bombers attacked, 900 people were killed and 1,500 were injured.
Indiscriminate bombing – Casualties may be heavy (News Letter, Wednesday, April 16, 1941)
"Northern Ireland experienced the full fury of German frightfulness last night," declared the News Letter.
The following communique was issued the following morning by the Ministry of Public Security, Northern Ireland, and headquarters, RAF, Northern Ireland: ''A heavy force of enemy bombers carried out an attack lasting several hours over area comprising practically the whole of Northern Ireland.
"The intensity of the attack varied. In some areas it was vicious and indiscriminate.
"Damage has been sustained by some industrial premises, but many of the bombs fell on residential property. From preliminary reports it is feared that casualties may be heavy."
Ulster 'Takes It' (News Letter, Thursday, April 17, 1941)
The News Letter's editorial comment from two days after the raid, as the magnitude of the damage and deaths still yet unknown, adopted a defiant tone to the Nazi raiders.
"The scale of the air attacks to which Northern Ireland was subjected on Tuesday night and Wednesday morning remains a subject for guesswork. Very many machines – the Germans themselves say 'hundreds' – seem to have been employed, and, as was, perhaps, inevitable, Belfast was the principal objective
"It was savage raid – vicious and vindictive, and carried out with great persistency, with the obvious intention of doing the maximum of damage.
"Residential and shopping areas in certain parts of the city suffered severely, and the casualty list, it is feared, may prove to be a long one.
"A trying ordeal has demonstrated, however, two facts of importance. The first is that Belfast can be proud of its emergency services.
"Put to a supreme test at the very outset, fire-fighters and ARP men worked manfully and well, casting aside all personal considerations and sticking heroically to tasks that were always dangerous and often demanded courage to the point of recklessness.
"A community which for a long time regarded them almost with indifference now realises how foolish and ungenerous it was.
"The other point is that the people of Northern Ireland, and not least those of its capital city, 'can take it'.
"The viciousness of the onslaught, the repeated bombing of districts entirely lacking in military objectives, evidenced a determination to break down the morale of the community. It has failed to do so."
The editorial concluded: "Northern Ireland is in this war to the finish, and will play its part even more resolutely because of this dire experience."