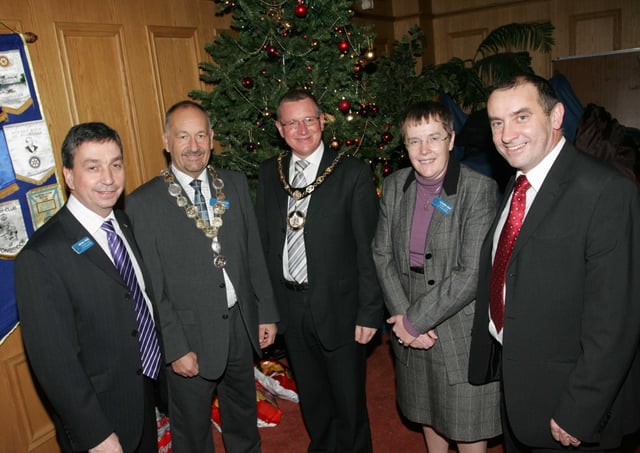 At the Rotary Club Christmas dinner at the Seagoe Hotel in 2007 are Brian Friar (Secretary), Herbie Smyton (President), Mayor of Craigavon Cllr Robert Smith, Catherine Dixon (Vice President) and John Prestley (Principal of Moyallon PS)
If you have any old photographs that you would like to share with our readers, we would love to hear from you.
Mayor of Craigavon Cllr Robert Smith pictured at Mahon Road Nursing Home where he officially turned on the Christams Tree lights in 2007
Members of Craigavon District Youth Council at the annual Inter youth variety show called Christmas Crackers held at Craigavon Civic Centre in 2007
Mayor of Craigavon Robert Smith at a visit to St Francis Nursing Home in 2007 l/r Elsabe Mitchell (Nurse Manager) Ruth Thomson (Cook) Andrea Breen (Care Assistant) and Lizzie Joseph (Staff Nurse)
George Braham and Frank Lynch of St Vincent De Paul, Craigavon received gifts of food and toys donated by customers and staff at Tesco Craigavon for the Christmas family appeal in 2007 from Desmond Haughey, store manager, Mary McAlinden, wages clerk and Sinead Heaney and Brenda Hughes, section managers
Local MLA David Simpson held his annual collection for charity outside St Marks Church in 2007 with the help of the pupils of Richmount PS who sang carols in aid of the Mandeville Centre at Craigavon Area Hospital. Also pictured is the Mayor of Craigavon Cllr Robert Smith and Cllr Sidney Anderson
At the Southern Area Hospice-Craigavon Borough Council Light Up A Life illumination ceremony at Craigavon Civic Centre in 2007 are, from left, Peggy McKeever, Craigavon Support Group, Jasmin Yasin, Lismore Choir, Cathal Murphy, Lismore music teacher, Beth Ross, community liaison officer, Southern Area Hospice, Mayor of Craigavon, Councillor Robert Smith, Kirsten King, Hospice fundraiser, Grace Catney, Lismore Choir and Susan Parks, Craigavon borough Council.
Some members of the Edenderry Primary School girls soccer teams which won the recent IFA indoor tournament at Craigavon Leisure Centre in 2007. Also pictured is teacher/coach Mr Peter Mullan
Staff at Moy Park, Craigavon raised £600 for the Southern Area Hospice through a Hallowe'en raffle at the factory in 2007. Pictured at the presentation of the cheque are Moy Park employees, from left, Marie McAlinden, Marissa Shanks and Eileen Carvill with Kristen King, regional marketing officer, Southern Area Hospice