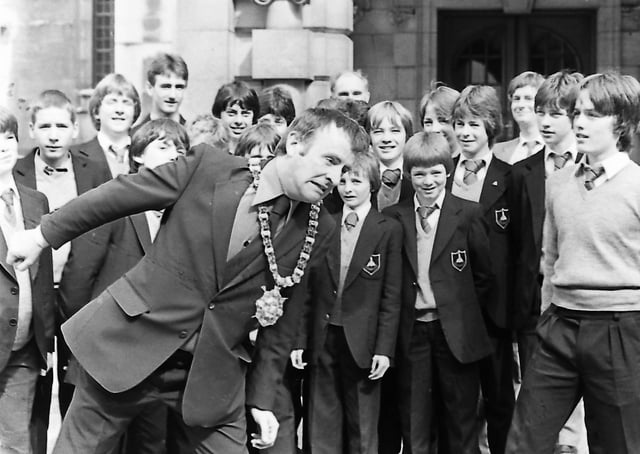 On the ball with pupils of Deramore School, Belfast, in September 1980 is Lord Mayor, Alderman John Carson, who had a game of headers with Graham McClure, 15, right, when the boys visited City Hall. The 23 pupils were leaving on September 11 for a two-week football tour in Duisberg, West Germany, where they were to play six matches against schools and football clubs. Picture: News Letter archives
Here is another selection of old photographs, today's batch of old photos come from September 1980 and includes pupils from Deramore School in Belfast meeting the Lord Mayor of Belfast, Alderman John Carson, ahead of their tour to West Germany.
And from the 2000s we have a couple of photographs from the celebrations of the 250th anniversary of Roseyards Presbyterian Church, Ballymoney, in May 2002.
See who you might see from days gone by.
The Most Reverend John Ward Armstrong, centre, Primate of All Ireland, with two new bishops, Canon the Reverend James Mehaffey, who had taken up the post of Bishop of Derry and Raphoe; and the Venerable Gordon McMullan, who had taken up the post of Bishop of Clogher, after a service in St Patrick's Cathedral, Armagh, in September 1980. The News Letter noted the appointments had cut the average age in the House of Bishops from 62 to 58, with Bishop Robert Eames of Down the youngest member, at 43. Picture: News Letter archives
Do you have an old photograph that you would like to share? Email: [email protected].
Mr Joe Malone, director general of Bord Failte, presents a painting of the west of Ireland to Mr Don Faughnan, who had just retired as the Northern Ireland manager for Bord Failte after 39 years service. Mr Graeme Allen, the new manager, is to the left. Picture: News Letter archives
Mrs Claire Kennedy, chairman of the Electricity Consumers' Council, second left, speaking to committee members Mrs Joan Tomlin, Mrs Mary Anderson, Mrs Doreen Moody, Mr John McAteer and Mr Samuel Cowan in September 1980. Picture: News Letter archives
Bringing in the Ballygowan Herd in May 2002 is Beattie Lilburn, grassland farmer of the year, with Will Taylor, Ulster Grassland Society president and John Henning, sponsor, Northern Bank. Picture Kevin McAuley/Farming Life archives
The Rev W J Watson and his wife Anna at the 250th celebration of Roseyards Presbyterian Church, Ballymoney, Co Antrim, in May 2002. Mr Watson was minister there from 1956-1996. Picture: Kevin McAuley/News Letter archives
All the way from Islandmagee, Co Antrim, to mark the he 250th celebration of Roseyards Presbyterian Church, Ballymoney, Co Antrim, in May 2002, are Jean Kane and Dorrie McIlwaine. Picture: Kevin McAuley/News Letter archives
Eric Wilson from Antrim stokes up his engine at a 2002 steam rally in Ballymena. Picture: Kevin McAuley/News Letter archives
Finance Minister Sean Farren taking a day out at a 2002 steam rally in Ballymena. Picture: Kevin McAuley/News Letter archives
Desmond Hughes checks his engine at a 2002 steam show in Ballymena. Picture: Kevin McAuley/News Letter archives