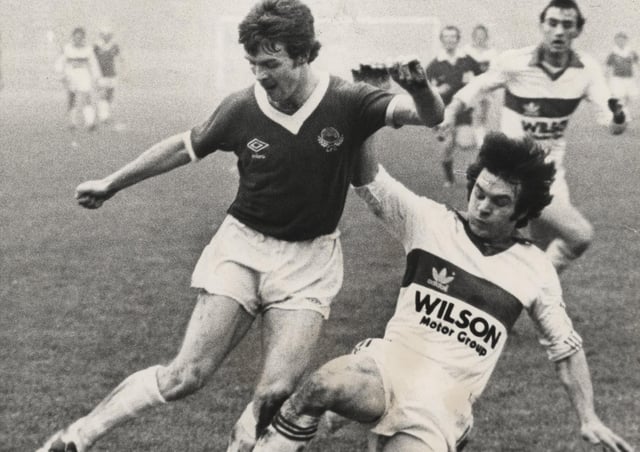 Linfield's Johnny Jameson getting in a shot at the Glentoran goal despite the close attention of Glens' defender Rab McCreery during the Big Two clash at Windsor Park, Belfast, in January 1980. Picture: Eddie Hanvey/News Letter archives
Today we are looking back at more of the paper's sporting photographs, today's selection includes action from football matches held in the 1970s and 80s.
See who you might see from days gone by.
Do you have an old photograph that you would like to share? Email: [email protected].
Linfieldâ€TMs goalkeeper Ken Barclay beating Coleraineâ€TMs Des Dickson to a high ball during the Irish League game at Windsor Park, Belfast, in the 1970s. Picture: News Letter archives
Heads its mine: Glentoran winger, Johnny Jameson rises to nod home the first of his two goals at the Oval in April 1982. Picture: Trevor Dickson/News Letter archives
Pictured in September 1980, Cliftonville goalkeeper Brian Johnston dives into the feat of Glentoranâ€TMs Rab McCreery with Marty Quinn in close attendance during the Ulster Cup game at the Oval in east Belfast. Picture: Eddie Hanvey/News Letter archives
Mick Smyth, the Shamrock Rovers goalkeeper clutches the ball safely to his chest and prepares to side-step Don Johnston of Ards FC during their British Isles Cup match at Castlereagh Park on September 17, 1970. Picture: News Letter archives