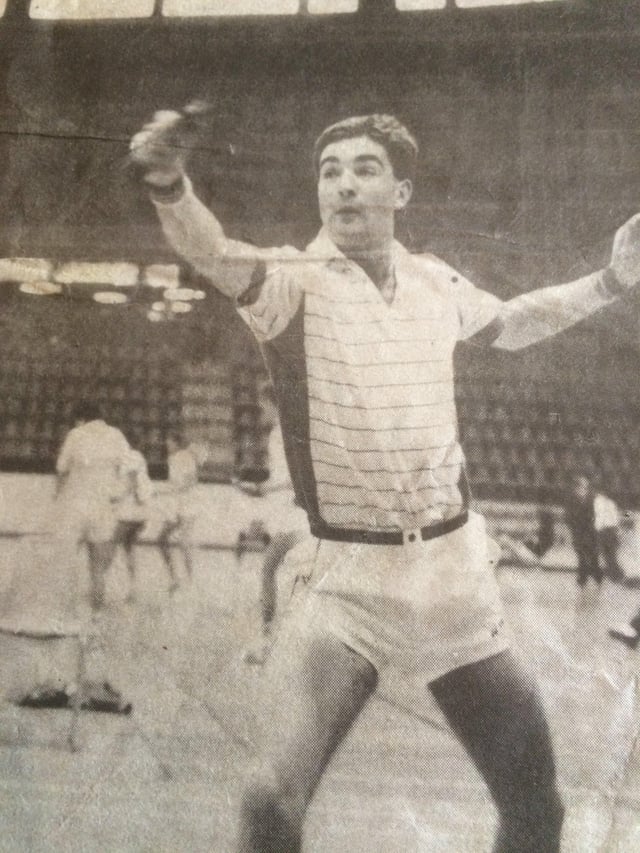 Rikki Keag in action
It was nothing less than a sad day for the badminton scene when he eventually called a halt on his international badminton career in 1989 having previously been winning titles almost as 'a hobby' over the years.
Despite that decision having not come as too much of a surprise to those who really knew him well, it was nevertheless quite a bolt to the local badminton, however, it was common knowledge that he had been troubled with a back injury for quite some time.
From the start Rikki Keag was a 'one club' man and his love for Alpha began when he was 16 years of age.
Rikki Keag and the Alpha Junior Team
Even today he looks back fondly on his early years at Alpha Badminton club, particularly with the Pinta competition and being able to play with the likes of Ken Carlisle, Sam Moore and later John Scott.
"I was simply thrilled and in awe of these players," said Keag. "They would have helped you along the way with your game and they were always offering me advice on different aspects of my game.
"I really never forgot those early days when at the club you were taken onto the stage at the Braniel Hall and you spent your time trying to hit a shuttle on a long piece of string.
"The Pinta competition allowed us to spend the Christmas holidays down at the club battling it out against the top players from throughout the country and not only within our own age group."
Rikki Keag and Bill Thompson winners of the Irish Nationals Men's Doubles title in 1985
By 1978 Keag had accumulated a bucket-load of under-age badminton titles - an amazing 19 Pinta titles from 1969 - where his speed and anticipation were assets he had in abundance.
Many plaudits realised his potential from an early age and it was only a matter of time before he was knocking on the door to make his senior debut.
In 1981 Keag had teamed up with his Alpha teammate George Stephens in the Benson & Hedges International.
They had been drawn against the experienced Fraser Evans - first capped in 1975 - and Brian McKee and had gone one set up before losing out in three.
The astute Ian Barton commented on Keag's play describing him as 'The most skilful of the four on the day. He was in no way overshadowed by his international opponents. His play was imaginative and intelligent and Rikki can count himself unlucky to have ended up on the losing side.'
However, Keag was forced to wait until the 1982/83 season to make his long-awaited international debut. Despite being selected to play against Wales the previous season, he was forced to withdraw due to sustaining an eye injury.
He was also later to enjoy his first international win in tandem with Bill Thompson against Wales.
In 1982 Rikki won the first of his two Irish National Men's Doubles titles with his brother-in-law Bill Thompson. The second came in 1985 before he bagged his third in 1988 with Liam McKenna. The young star also captured the National Mixed Doubles title in 1986 with his club-mate Ann Stephens.
Keag was in the Alpha side which made their debut in the Europe Cup in 1981 in Copenhagen. The players were forced to fundraise to cover the trip, which originally was to be hosted by Wales but at a later stage was changed to Copenhagen.
A total of £800 was raised principally from a 100 km run by the team of John Scott, George Stephens, Rikki Keag, Graham Henderson, Linda Andrews, Valerie Stewart, Doreen Blackstock and Dona Sloan.
Rikki also played a significant role as he was one of eight Alpha players in the early Eighties to ensure that the Ulster side won promotion to Division 2 of the English Inter County Championships.
The Alpha club player plied his trade at two consecutive Commonwealth Games, the first at the 1986 Edinburgh Games followed by Auckland, New Zealand in 1990.
"Going to the Commonwealth Games were really great experiences where the team spirit was unbelievable," said Rikki. "In Edinburgh Bill Thompson and I went out 18/16 in the third set while in the Mixed Doubles I was to go down 17/14 whilst the heat was the big thing in Auckland of course - it was brutal!"
Another highlight of Keag's career was when Northern Ireland hosted the 1987 Helvetia Cup, which was the European mixed team championship at the Maysfield Leisure Centre, Belfast.
"This championship not only raised the profile of the sport here in Northern Ireland but for once we were able to see the matches ourselves on television," he added.
In 1989 Rikki was forced to make the difficult decision to call time on his career following a persistent back injury.
It first raised its head during pre-season training in 1988, ultimately forcing him out of the European Championships in Moscow.
He was also forced to withdraw from some Thomas Cup tests the following February. This international competition, also known as the World Men's Team Championships was played between the Badminton World Federation's member nations.
Without question Rikki was one of Ireland's most outstanding doubles players of the previous couple of decades having amassed over 60 international caps and had been part of two excellent doubles partnerships.
On his retirement from the sport, Irish team manager of the time Joe Kinkead said: 'He will be greatly missed on the international scene. He was a player of real class who could really make things happen on court with his remarkable control of the shuttle.'
Having retired, Rikki continued his association with his club, helping Alpha's Mr Badminton Bob Colhoun with the Pinta tournament for a number of years.
His prowess, particularly as a doubles specialist, was recognised with a coveted Sports Writers Award late in his career.
Reflecting on his decision to retire Keag concluded: "The decision was really taken for me. I was really unable to play the game to the level I had prided myself in maintaining. Because of the eye and back problems I was having it was simply time to go."