STEPPING BACK IN TIME: Curious wanderings of an Englishman in Ireland
When you are looking for travel writers you might go to the likes of Paul Theroux, Bill Bryson, Jack Kerouac, etc. And when you think of early travel destinations you might think of the Grand European Tour and then perhaps Italy.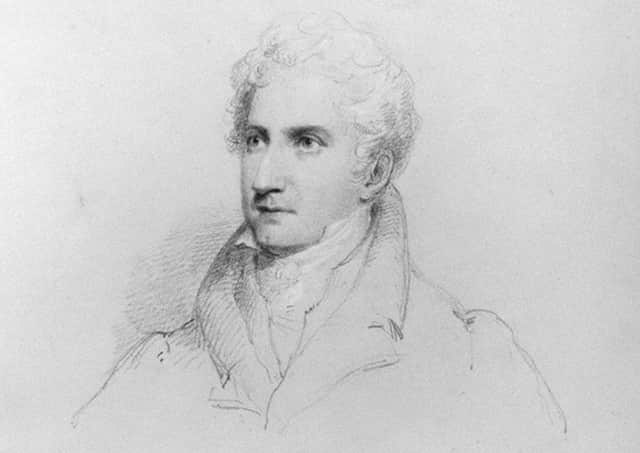 John Carr by William Brockedon, pencil and red chalk, 1832
However, one travel writer you may never have heard of is Sir John Carr who wrote 'A Stranger in Ireland' which is about his travels in the south and south-west of Ireland in 1805.
You may ask well what has this got to do with Northern Ireland well the Londonderry Militia, whose rank and file militiamen predominantly of course came from Co Londonderry, were stationed in Killarney during the period of his visit. The Commanding Officer, Major Langford Heyland (later Lieutenant Colonel), acted as Sir John Carr's guide when he was around Killarney and gives us a great insight and observations (sometimes hilarious) into those times.
The details in 'A Stranger in Ireland' concerning the Londonderry Militia and Killarney are in Chapters 16 and 17 and I have extracted those observations that made me laugh in imagining the very Irish scenes that Carr describes.
On Sir John Carr's departure from Limerick, he describes as follows: "I bid adieu to Limerick, so famous for its pretty girls, its river, its gloves..." I must admit I never knew Limerick was famous for its gloves making...as they say everyday is a school-day
Carr had hired a chaise (a small carriage) from Limerick to Killarney for four guineas. The driver of the chaise Carr described as follows: "...the driver was a very good humoured fellow who stuttered most intelligibly, til I became a little accustomed to him". Later in the book he said that the driver had 'impregnated' him with a little of his stuttering...I never knew you could be impregnated that way before!
Along the route Carr "met two old women who were smoking a single and very short pipe between them, each alternately taking a social puff. Upon my asking one of them whether the Rebellion had raged here much, she replied; 'No, your honour, we had only a little blast of it', this figurative strength of expression is very common amongst the low Irish". The rebellion referred to was of course the 1798 Rebellion where the Londonderry Militia was involved in its suppression especially in Co Wexford.
Another of Carr's observations along the way was that "in one cabin I saw a pretty obstinate contest between a pig and his mistress; the latter wanted him to go out, and the former was resolved to stay in, and gained his point. The low Irish are very fond of giving fine names to these animals. A woman was overheard to say to a great sow: 'Ah, Juliana! get out, what do you do here!'" You can just imagine this happening.
On reaching Killarney he first visited Muckross Abbey and Carr relates the following with the story ably demonstrating that famous dry Irish humour: "Many Irish Kings and Chiefs are buried in the Abbey, a favourite place of sepulchre, where the dead are buried only on the south and east sides: the north is looked upon, I was told, as the Devil's side, and the west is preserved for unbaptised children, for soldiers, and strangers. In this court are windows of unequal sizes: to try the prompt drollery of an Irishman whom I met afterwards, I asked him the cause of the inequality. 'By my shoul!' said he, 'and the great windows were for the fat friars to look through, and the smaller ones for the little friars'."
On meeting up with Major Heyland they had planned the next day for a trip on the famous Killarney Lakes. However, not unusually for Ireland, it was raining but another entertainment had been arranged by Heyland as related by Carr: "...but were gratified by hearing the band of the Londonderry Militia, which is a remarkably fine one, play some beautiful airs, composed by Lady Stewart, sister of Lord Castlereagh, and others of the justly celebrated Irish bard, Carolan". Lord Castlereagh (Robert Stewart) was the Colonel of the Londonderry Militia.
Carr later relates a story about the bard Carolan who died in 1738: "His wit was very ready and forcible. Being upon a visit with a parsimonious [very unwilling to spend money] lady, as he sat one day playing upon his harp, he heard the butler, whose name was O'Flinn, unlock the cellar door, upon which he followed him, and requested a cup of beer; the fellow refused, and thrust him rudely from the cellar, upon which he composed the following severe epigram: 'What pity hell's gates are not kept by O'Flinn!/ So surly a dog would let nobody in'."
The next morning Carr went to the Killarney Quarter Sessions and describes this amusing incident: "The officer of the court....made a horrible noise by endeavouring to keep the silence, struck this anxious, unlucky wight a blow on the head with a long pole, almost sufficiently forcible to have felled an ox; the fellow rubbed his head, all the assembly broke out in a loud laugh, in which the object of their mirth could not resist joining."