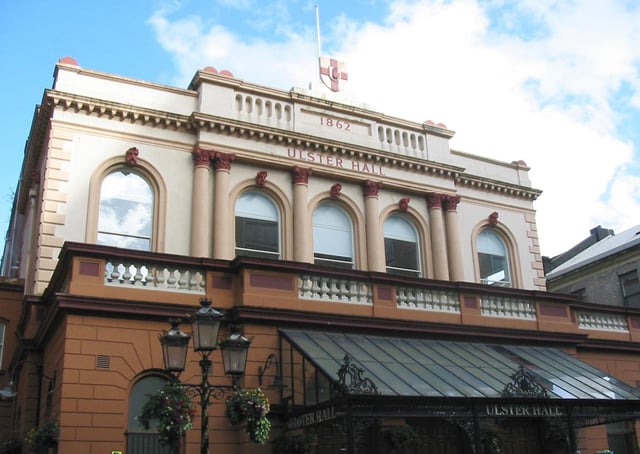 The Ulster Hall in Belfast
Belfast theatre-goers were in for a treat in the coming week reported the News Letter, with the arrival of the famous actor Henry Irving to the city who was to appear at the Ulster Hall in October 1881.
Mr Irving, noted the paper, had organised his present tour, "bringing together a matchless company" for the provinces.
At Belfast Irving's company of actors were to put on a variety of plays including The Merchant of Venice, "which was to be performed twice in the course of the week", while Hamlet, The Cup, The Belle's Stratagem, Charles I and The Bells would be performed on the coming Wednesday "and the following evenings, with much of the scenery and effects of the London theatre".
The News Letter added: "With regard to the prices to be charged at the Ulster Hall, we think we are right in stating that no theatre which has been visited Mr Irving and Miss Ellen Terry within the past two months has the charge for admission been so low. In Liverpool the prices were doubled, and at the Gaiety Theatre, Dublin, a proportionate increase was made. There can be scarcely be a doubt that the liberality of Mr Warden in adding only one-half to the usual price will be appreciated by the public of Belfast."