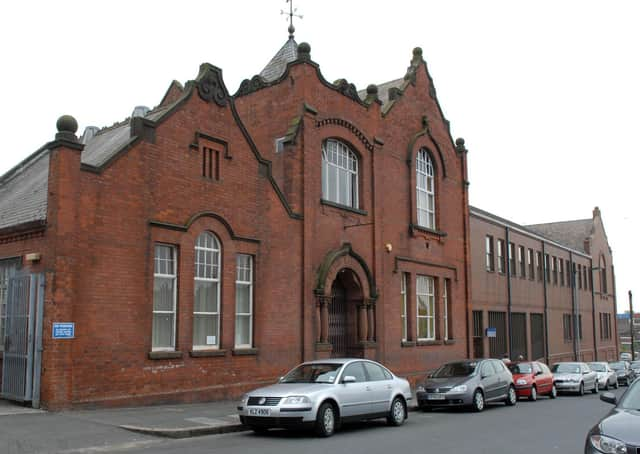 The Carnegie Library, Lurgan
On this day in 1910 the News Letter reflected on the awarding of the freedom of Belfast city to Andrew Carnegie LLD, the Scottish-American industrialist and philanthropist.
The News Letter noted: "The two distinguished gentleman who are to receive the freedom of the city today arrived yesterday and were met by the Lord Mayor, with whom they are staying during their visit.
"Mr Andrew Carnegie, LLD, is equally known and esteemed both aides of the Atlantic. The zeal with which he is using his great wealth to promote the public welfare has given him a position of pre-eminence among philanthropists.
A display at the Andrew Carnegie Birthplace Museum in Dunfermline, Fife, Scotland. Picture: Kim Traynor/Wikipedia
"He attaches much importance to the education of the people, and the fund which established in connection with the Scottish Universities is of great assistance to many students of limited means.
"At the same time, he recognises that education not confined to schools, colleges, and universities, but, agreeing with Carlyle that 'the true university in these days is collection of books,' has done his best to bring this means education within the roach of all classes in the United Kingdom."
The News Letter's editorial continued: "He has spent and enormous sum establishing public libraries all over the country, and three branch libraries in Belfast bear name.
"It is in recognition of his generosity that the Corporation decided to present him with the freedom of the city.
"He had the opportunity of inspecting the branch on the Oldpark Road, where the chairman of the Library and Technical Instruction Committee received him, and briefly explained the work which the libraries are doing."
Libraries had been flourishing in Northern Ireland, noted the News Letter.
"There could be no better proof of their success, and of the way in which they are appreciated by the citizens, than the fact that since they were opened the number borrower of books has nearly doubled.
"In 1903 before the first branch was opened, there were 9,000 tickets in use, and now there are 16,000. The number volumes issued has increased from 207,000 to 400,000. A similar increase has taken place in the number of visitors the libraries. There are many people who think that there is too much reading of fiction, but in Belfast the percentage of novels borrowing is declining, and Mr Carnegie states that this is too general experience of libraries.
"People who begin with fiction very often take to more serious works. The first thing to be done is to cultivate the taste for reading and the next to guide it in the right direction.
The News Letter the reflected on the noble profession of being a librarian.
The editorial remarked: "Mr Carnegie would like to see the librarians in all the public libraries taking a part in this work by suggesting to applicants the best books on the subjects in which they are interested.
"A librarian, he says, only does half his work when he gives out the book that reader asks, but if he puts the best books into hands readers makes his profession a noble one."
The News Letter concluded: "We are sure the Corporation in honouring Mr Carnegie for what he has done to cultivate the taste for literature and to supply the means of gratifying it, is carrying out the wishes too citizens."