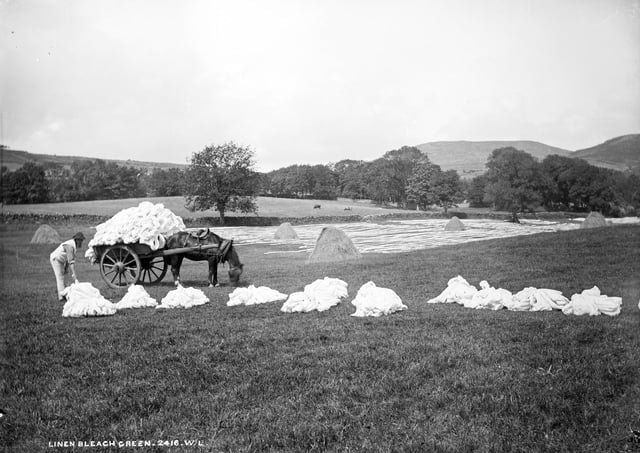 A Linen Bleach Green taken near Kilbroney, Rostrevor, Co. Down. Reference: L_ROY_02416. Picture courtesy of National Library of Ireland on The Commons's
"Though no loud lamentations are heard from the weavers, it cannot be denied that their position during the year so far has not been enviable," reported the News Letter's weekly linen industry despatch.
Long-run contracts had become "almost dead and gone history" and with merchants at the time pursuing a policy of selling out their stocks and postponing purchasing new stock the weavers "can only live on hopes of better times in the near future".
The volume of work carried out by spinners during the fortnight which had just past had been much lower than same time the previous year.
The News Letter noted: "Much of the present demand for yarns is sectional, and inquiry for fine numbers almost static".
As for the manufacturers, in their eagerness to make cloth sales had been forced to cut prices "to the knuckle".
There were hopes that circumstances could soon change, the paper observed, and there was a feeling among "merchants and manufacturers that there were big crops of good 1929 flax in Europe only awaiting release".
Of home-grown flax was being sold this week in 1929 at Ballymena, Coleraine and other Ulster markets for a price between 9s 6d to 12s 6d per stone, with the average about 11s 6d per stone.
But the paper concluded: "It may be still premature to pronounce regarding its spinning qualities."