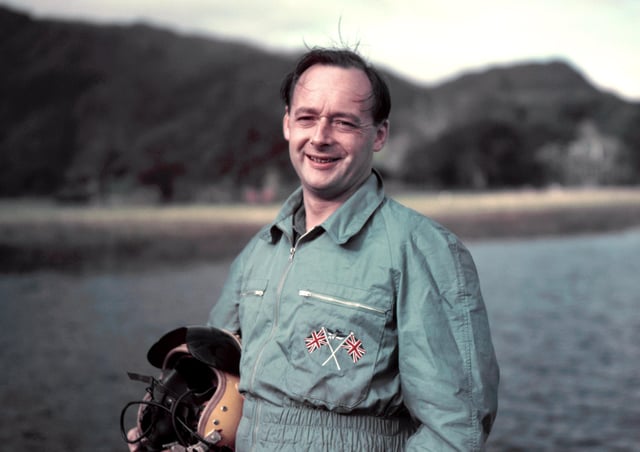 Picture of Donald Campbell in 1958. Picture: PA Wire
It was reported by the News Letter on this day in 1956 that Donald Campbell has become the first man to travel at more than 280 miles an hour on water at Coniston, Lancashire, the previous night.
He had broken his own world water-speed record of 216.2 mph which he has set up the previous November at Lake Mead, Nevada, USA, with a new figure of 225.63 mph. night: "It Is marvellous achievement.
Mr Campbell, on his first run in the jet-powered Bluebird had flashed across Coniston Water at 286 mph.
Speedboat record-breaker Donald Campbell (1921-1967), whose boat The Bluebird had reached nearly 240 mph, in October 1958, proudly shows it off to a group of soldiers from the Royal Artillery. Picture: Hulton Archive/Getty Images
Looking tired after his ordeal, he said: "We had no intention of trying to reach that speed at all. For a very good reason - the breaking of these records is job of work for scientists and it foolhardy to take too large a step.
"We have taken a step which is far too big, and we are very lucky to have lived through it.
"After cleared the end of the measured kilometre the boat suddenly did an incredible snake and then went completely mad. I could almost say it went into convulsions."
The second run was at 164 mph - nearly 122 mph less than the first. The average of the two runs created the new record.
The record put Mr Campbell in the running for the first annual award of £5,000 offered by Mr Billy Butlin to the first person to break the previous record.
Mr Butlin said in London the previous night: "It is a marvellous achievement."
A spokesperson for Mr Butlin said later: "There is no doubt that Mr Campbell will get the award. The gold trophy which incorporates representation of the Bluebird will be worth about 1,000 guineas."
The News Letter gave further details of Campbell's world record breaking achievement at Coniston.
At the end of his first run he had radioed a dramatic message.
It was: "I'm getting a hell of a shaking. Shipping water. Something is adrift. What the hell is happening? I'm braking like hell, don't know what has happened. I'm taking a beating. I'm down to 100 miles an hour."
As his wife and mother and the reporters and officials waited tensely, Mr Campbell said with obvious relief: "She seems all right now."
His wife put her hands to her face and covered her eyes. His mother, Lady Campbell, turned away. Mr Campbell's 10-year-old daughter was with them. It has been her birthday yesterday.
Lady Campbell said later: "I was terrified when he started his second run. I finished hiding in some bushes so that I wouldn't see him."
Later, Mr Campbell said: "Due to the fact that had water in the airspeed indicator we were getting an obviously erroneous reading. Visibility was very bad, and we hit the measured kilometre at a speed which was well above the existing record. Such speed was the logical next step, and that why I say that have good cause to go down on our knee? and thank God because we have taken a step which is far too big."