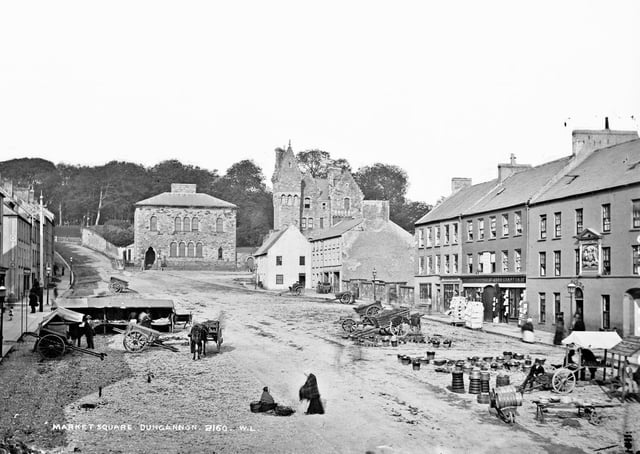 This is beautiful old photograph of the Market Square in Dungannon, Co Tyrone from the archives of the National Library of Ireland. It shows traders set up in anticipation of sales to the people who must surely come to the market. Catalogue range circa 1865-1914. Definitely after 1871 (tower). And before 1891 (post office) Likely circa1800 (businesses). NLI Ref: L_CAB_02160. Picture: National Library of Ireland
The Commissioner's rooms in Dungannon had been the setting for a meeting of "leading merchants and traders" of the town and the committee which had been set up to look into the formation of "an Ulster Steam Navigation Company".
It was hoped that the new company would enable goods to be conveyed from Coalisland from the ports of Belfast and Newry by steam lighters along the Ulster canal.
The meeting, which was presided over by Mr John Stevenson, JP, was read a report which had been written by the committee on the latest development with the project.
The report stated: "Since last meeting [the committee] have waited upon the merchants and traders of the town and district, placing before them the benefits to be derived from the formation of a company. . ."
The report continued that it was believed that such a project would ensure that the merchants and traders of Dungannon would not have to pay the "exorbitant charges now demanded by the railway company".
The result of this canvassing had been "most satisfactory" according to the committee and they were delighted to disclose that "the entire shares have been subscribed for" and that "several parties who took shares at the [last] meeting have since put down their names for double the quantity".
Mr Stevenson had made inquiries in Dublin as to the sale steam lighters which could be used on the canal and had received a telegram that morning in response to his inquiries which said: "The steam lighters are good as new, only short time used. They can be purchased at a very moderate price."