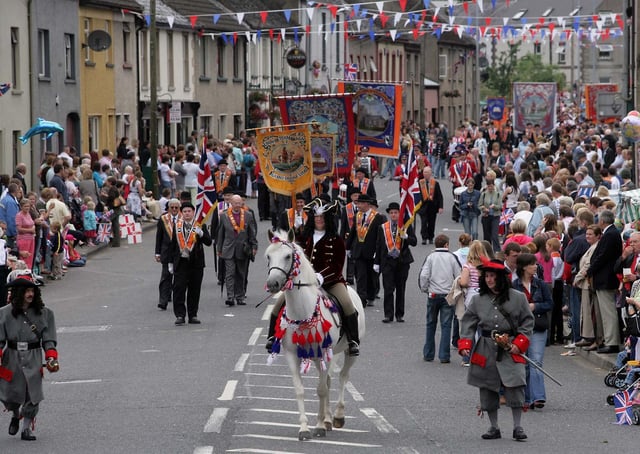 The Twelfth demonstrations led by King Billy make their way through Maguiresbridge, Co Fermanagh in 2006. Picture: John McVitty/News Letter archives
A meeting of the Maguiresbridge Unionist Club had been held in the village's Parochial Hall had been held in light of the first reading of the Home Rule Bill this week in 1912, reported the News Letter.
Colonel Doran of Lurganbrae, who had presided at the meeting, declared that the passing of the Home Rule Bill would "ruin and annul the Church of Ireland and the Presbyterian and Methodist Churches in Ireland".
Another attendee at the meeting was Dr Armstrong Todd, the secretary of the club, who "submitted an analysis" of the provisions of the Home Rule Bill which was being advanced by Herbert Henry Asquith and also drew on criticism of the bill which had been put forward by the Unionist leadership.
Dr Todd suggested that a Protestant Association should be established for "the purpose of protecting Protestant farmers, shopkeepers, and all belonging to the Protestant Churches".
Dr Todd further claimed that such an association was needed as it would be "in the markets, the fairs and in business" that the Protestants would be "squeezed by Nationalists".
Another speaker at the meeting in the Fermanagh village was Mr William Johnston.
He said that unionist should not be disheartened by "the passing of the first reading" of the Home Rule Bill since "no one for a moment expected anything else".
He said: "The country will now have time to consider the measure before the second reading and there might be a change [of attitude]."
He added that it was his expectation to see more defectors from "the Radical party" before the second reading took place.
Mr Johnston added: "Unionists, however, must not relax their efforts [to prevent Home Rule]."