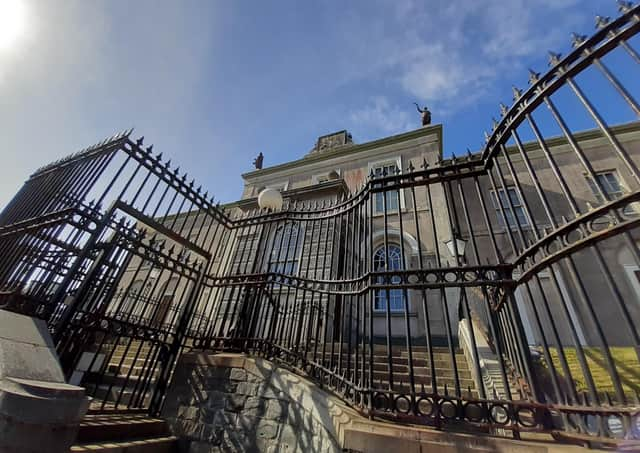 Downpatrick Courthouse. Picture: Darryl Armitage
On Wednesday, April 27, 1825 a meeting of the "landed proprietors and inhabitants of the county of Down" had been held in the Court House in Downpatrick reported the News Letter.
The purpose of the meeting was to take "into consideration the propriety" of petitioning the legislature "upon the contemplated change in the corn laws".
The correspondent at Downpatrick wrote: "We observed amongst the landed properietors present, Lord Annesley, Nicholas Price, Esq, Colonel Nugent, David Gordon, Esq, W Hall, Esq, James Auchinleck, Esq, Major Bailie, J L Reilly, Esq, the Reverend William Annesley and Captain Rowan.
The historical plaque outside Downpatrick Courthouse. Picture: Darryl Armitage
They reported: "The court-house was extremely crowded; but it struck us, that the meeting was composed mostly of the tradesmen of Downpatrick.
"There were, besides those landed proprietors we have enumerated, a few most respectable freeholders, and some gentlemen intimately connected to the corn trade; but by far the majority of the assembly was composed of operatives."
Indeed, the News Letter's correspondent noted, ahead of the meeting during the morning, a bell had been run through Downpatrick calling on people to "come forward this day – a big loaf – now or never!"
The correspondent added: "Some of its native orators, whose powers of eloquence have been so successfully exerted at the hustings, harangued the crowds assembled at the corners of the streets; and the 'note of preparation' was heard from every month, long before the doors were opened."
The road with Downpatrick Courthouse, the old goal and Downpatrick Cathedral. Picture: Darryl Armitage
Mr Costlett read the draft of a petition, which he proposed should go forward to parliament "as the recorded opinions of the landed proprietors and inhabitants of the county of Down". It stated: "That the beneficial effects of the present corn laws have powerfully manifested themselves, in the increasing prosperity of these countries; that any alteration in them, which would give foreign countries access to our markets, should be viewed with alarm, and proceeded in with caution; but that, whilst those sentiments were urged on the attention of parliament, it was trusted, that if any chance were deemed necessary, that it should take place gradually, and with great circumspection."