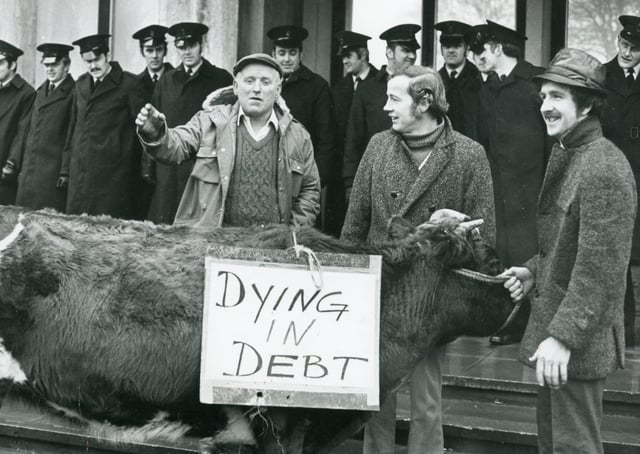 Member of the RUC lined up at the entrance to Dundonald House in east Belfast in January 1975 while farmers held a good humoured mock auction of the cow which was in the vanguard of their protest. Picture: News Letter archives
Work at both Newry and Warrenpoint docks had been brought to a standstill during this week in December 1948 when the drivers of coal lorries, their helpers, and the men employed in the yards went on strike.
Dockers had also struck work in sympathy with them.
It was believed that upwards of 300 men were involved.
Farmers from the Ards area picketing the entrance to the Northern Ireland Dairies in Bangor in January 1975 in protest against a workers picket line stopping milk supplies entering the dairy. Picture: News Letter archives
The dispute, it was stated, had arisen over the refusal of the lorry drivers, their helpers and the yardmen to work on Saturdays.
The News Letter reported: "Since April last the men have had a five-day working week of 44-hours. It was an experimental agreement for six months, with, it is stated by the coal merchants, an agreement that from October the men should work up to 5pm from Monday to Friday and to one o'clock on Saturdays."
The matter had been referred to an Arbitration Court which had upheld the agreement.
Methodist ministers protest at War Memorial fundraising
The law steps in to halt the progress of the heifer just outside the front door at Dundonald House in east Belfast during the farmersâ€TM protest in January 1975. Picture: News Letter archives
The Belfast District Methodist Ministers' meeting which was held this week in December 1948 had unanimously passed the following, resolution: "The Belfast District Methodist Ministers' meeting deeply deplores the action of the Northern Ireland War Memorial Committee in sanctioning a method of raising money for such a worthy object by an appeal to the spirit of cupidity. Already many those who have the deepest interest in such memorial have felt the indignity of such appeal which is an insult to the memory those who gave their all for the freedom mankind."
It continued: "It calls upon the committee to withdraw its sanction to the proposal to raise money by an appeal chance which has caused very widespread resentment and is altogether unworthy of the high object view and to make the appeal on the high ground the worthy commemoration the sacrifice made by our follows – men and women – an appeal which has never failed to elicit adequate response in Northern Ireland.
"The meeting recommends the Methodist people to support the fund in worthy manner – to make their gifts without seeking for personal gain therefrom."