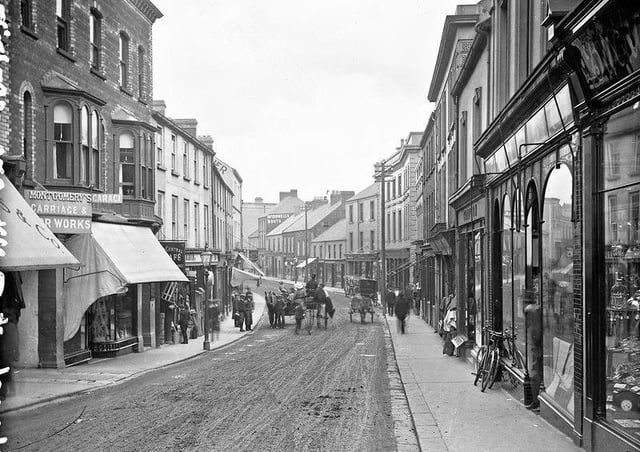 Church Street, Ballymena, Co Antrim. NLI Ref: L_ROY_11241. Picture: National Library of Ireland
The extensive premises of Messrs R Allam and Son, seed merchants based on Wellington Street in Ballymena had been burned to the ground on Tuesday, March 15, 1911, reported the News Letter.
The outbreak was noticed shortly after three o'clock, and fire brigade were immediately notified and arrived promptly.
The News Letter correspondent in Ballymena wrote: "There was a fairly strong breeze blowing at the time, and, fanned by this, the fire made such rapid headway that it was feared that it would spread to adjoining properties.
"The efforts of the firemen were principally directed to prevent this, and after much hard work they were successful."
The premises of Messrs R Allam and Son, noted the correspondent, extended from Church Street to Wellington Street, and it was believed that the fire had originated in the engine-room, about half way between two thoroughfares.
Four lines of hose were laid to the burning premises, one from Church and three from Wellington Street, one of the latter being worked through the fire engine from Mill Street, under Captain A M Martin.
The correspondent reported that the pressure water from the town supply was not what was expected and that nearly two hours elapsed before 
the flames were got under control.
The wrote: "By then the roof the large store Wellington Street had fallen. In addition to a large stock of grass seed from last season which was on the premises, there was considerable quantity seed all descriptions for this season's use."
Mr Henry O'Hara, superintendent, was in charge of the fire brigade who responded to the fire while the police were under the command of District Inspector Ross and Head Constable Masterson.
Liner launched at high-water
At high-water on March 15, 1911, the twin screw steamer The Egra was launched Messrs 
Workman, Clark and Company Ltd, Belfast, from their South Yard.
The Egra had been built to the order of the British India Steam Navigation Company Ltd and was 434 feet in length, with a gross tonnage 5,000.
Accommodation was provided in large and comfortable staterooms on the shade deck for about 50 first class and second class passengers, the rooms being arranged for one, two, and three persons.
The first class public rooms were all situated on the bridge deck and included a dining saloon, social hall, and smoke room, all "artistically fitted and furnished", while for the second-class passengers there is large dining saloon on the shade deck.