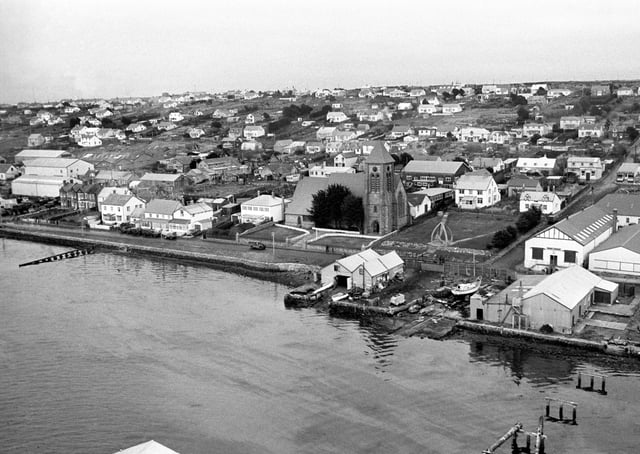 Diplomats were this week in March 1982 continuing their bid to solve the Falkland Island "invasion peacefully", reported the News Letter.
As Britain's gunboat lay anchored off South Georgia in the South Atlantic – there were reports that Argentina had sent up to five warships to the area – the British ambassador to Buenos Aires, Mr Anthony Williams, had been meeting Argentinian Foreign Ministry.
"We want to avoid at all costs any confrontation," said a British Embassy spokesperson.
Steel helmets abandoned by Argentine armed forces who surrendered at Goose Green to British Falklands Task Force troops in May 1982. Picture: PA Wire
"Certainly both sides are looking to find a diplomatic way out."
The Ministry of Defence in London had stressed that the Antarctic patrol ship Endurance was not even in sight of the Argentinian vessels, which according to the British Embassy, may have been on a join exercise with Uruguay unconnected with the South Georgia incident. The News Letter reported that the attendance had been "large and respectable".
However, Mr Brian Frow, director of the Falkland Islands Office in London, had called for Navy back-up for the Endurance, which had 12 Royal Marine on board and 119 crew.
"Since neither side is able to back down Britain must be ready to send reinforcements to help," Mr Frow said.
Prime Minister Margaret Thatcher greeting United States Secretary of State Alexander Haig when he arrived at 10 Downing Street for talks on the Falklands crisis in April 1982. Picture: PA Wire
The Defence Ministry had said that there were no plans to send reinforcements. The nearest British frigate was believed to be several thousand miles away in the Caribbean and would take up to a week to reach the area.
Tory MP, Winston Churchill, vice chairman of the party's Backbench Defence Committee, said: "This shows how dangerous it is to indulge in gunboat diplomacy unless there are enough gunboats available.
"This proves that the Royal Navy is now seriously over-stretched and more money needs to be spent on naval needs.
"It is right to use diplomacy at present, but it would be most unfortunate if 30 or 40 British Marines were taken prisoner."
The incident had begun earlier in March when about 60 Argentinians landed on South Georgia without permission, claiming they were collecting scrap metal.
Britain had protested and most of them were taken off on an Argentine ship.
However, a group of between six and 10 remained and MPs.
As Endurance reached the area, the Argentina indulged in its own gunboat diplomacy by sending a transport ship followed by two light frigates.
According to military sources in Buenos Aires, "troops would be used if Marines from Endurance tried to remove the party".