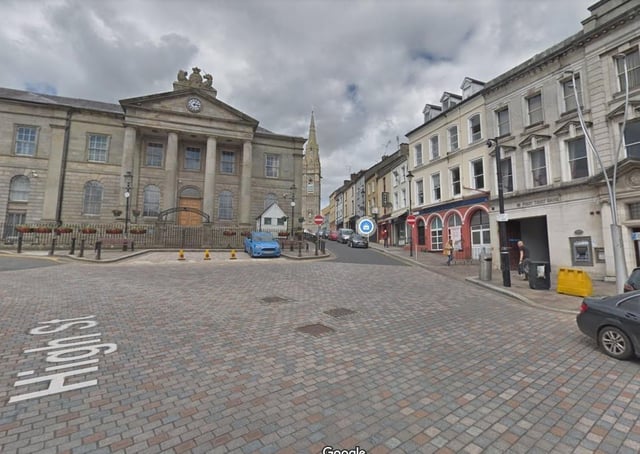 Omagh, Co Tyrone. Picture: Google
It was disclosed at an inquest at Omagh this week in 1958 that a 20-year-old soldier had lost his life while trying to save his Alsatian tracker dog.
The soldier was named as Trooper John Philip Moran of the 15/19 King's Royal Hussars which were then based in the Tyrone town.
Patrick Clifford, a lorry driver of a diesel train between Omagh and Londonderry, told the inquest that as he approached Bradford's Bridge which was midway between Omagh and Newtownstewart he had seen a soldier walking between the rails leading a dog.
The soldier had his back to the train but looked over his shoulder when Mr Clifford sounded the horn.
The soldier was about halfway along the bridge and he began to run towards the Newtownstewart end, pulling the dog with him.
When the soldier reached the end of the bridge he jumped clear and was pulling the dog clear when Mr Clifford "felt a slight impact" as the train reached the end of the bridge.
He added that he had done all he could do to prevent the accident.
The soldier was later found unconscious lying on a ledge six feet under the bridge but Dr Tracey told the inquest that he later died in Tyrone County Hospital of his injuries which "seemed to have been caused by a fall rather than a direct blow of a train, but it was difficult to say with any certainty".