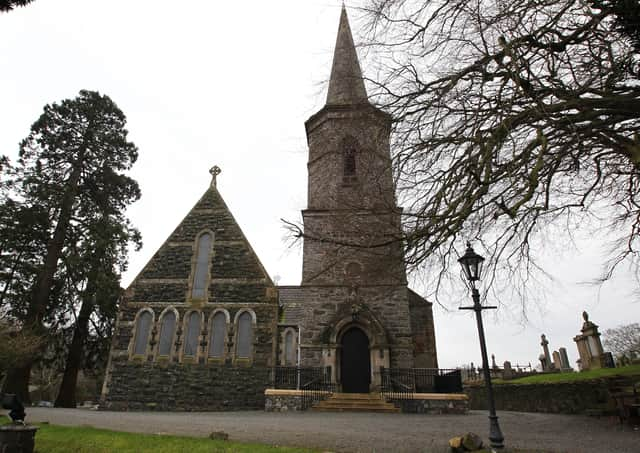 A large and reverent congregation had assembled at Drumbeg Parish Church on the previous Saturday reported the News Letter on this day in 1920.
The occasion which had brought them together was the institution of the new rector, the Reverend S R Hemphill, DD, Litt D.
The service began with the singing of a hymn after which the Reverend Canon Carmody, rural dean, acting as deputy for Archdeacon Pooler, presented the Reverend Dr Hemphill to his Lordship, who occupied a seat at the holy table.
The Reverend Canon Brett, registrar, then, by direction of the Lord Bishop, read the certificate of the new rector's election and appointment to the incumbency. With this done the customary declarations were administered by Reverend Canon Brett according to the laws of the Church of Ireland and the roll to which they had been affixed was duly signed by Reverend Dr Hemphill.
After prayer, the act of institution, took place, and the bishop, having bestowed the blessing upon the new rector led the latter to his stall and seated him there.
Of the Reverend Dr Hemphill's decision to take up his new post at Drumbeg the News Letter commented: "The choice that, brought him to Drumbeg was undoubtedly a happy one, for, according to all that one could learn at the solemn ceremony which placed him in charge of the parish, he is a man to whose heart all other hearts in the congregation are already knit in the strongest bonds of affectionate appreciation."
The paper's correspondent added: "Drumbeg Dr Hemphill will find to be an ideal place for a scholar and a Christian minister. It is situated in a quiet, industrious district, within comparatively easy reach of the big, populous, and go-ahead city of Belfast, and the opportunities brought to his door for study, culture, expression, and earnest effort are infinite. All these considerations were present in the mind of the Lord Bishop when addressing the new rector and parishioners."