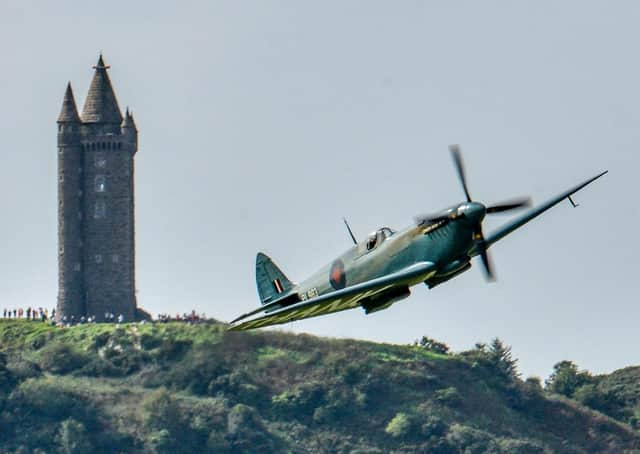 A Spitfire flies close to Scrabo Tower in Newtownards in September 2020. Picture: Simon Graham
Speaking at the official opening of the North of Ireland Aero Club's clubhouse at Ards Airport, Lord Londonderry told of his great hopes for aviation in the province.
There was a splendid attendance at the airport for the occasion and visitors enjoyed an interesting flying programme that had been arranged by the club.
Earlier Lord Londonderry had flown from Mountstewart to the Ards Airport to open the new clubroom which he had gifted to the aerodrome.
Mr R A Mitchell welcomed Lord Londonderry who was also accompanied by Lady Londonderry and Lady Mairi Stewart.
He remarked that there was no other dignitary worthy of the honour of opening the new clubrooms than Lord Londonderry given that he had been Minister of Air and was also a qualified pilot.
He added that the North of Ireland Aero Club were indebted to Lord Londonderry for the new clubhouse and for his "practical interest" in the club. Lord Londonderry said he was delighted to see so many people showing an interest in aviation in Northern Ireland
He said that he looked upon Northern Ireland as "one of the great aviation pivots" of the world and had followed the lead of the other aerodromes which had been built in the United States of America.
He said he was convinced that the Ards Aerodrome would not be just "another" aerodrome, he remarked: "I do not want it just to be that and I am delighted that we have a club where young men and women may become proficient in the art of flying."