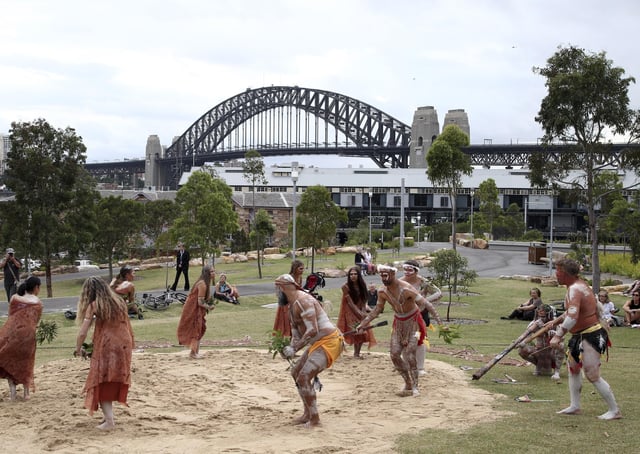 Traditional Aboriginal dancers perform a ceremony on Australia Day in Sydney, Australia, in January 2016. Australia Day is the anniversary of the arrival and landing of the First Fleet of convict ships from Great Britain, and the raising of the Union Jack at Sydney Cove by Captain Arthur Phillip, on January 26, 1788. Picture: AP Photo/Rob Griffith
Thomas Moore was indicted for the murder of Michael O'Brien at Belfast on December 26, 1829 and was tried at the Antrim Assizes reported the News Letter on this day in 1830.
Private Thomas Thornhill of the 9th Regiment gave evidence to the assizes.
He told how there had been a confrontation between the prisoner, who had been a door sentry at the Antrim barracks, and the deceased during which Moore was struck on the face.
About 10 minutes after the first confrontation between the two men Moore had walked into the room that O'Brien was and had fired a firelock.
Shortly afterwards, O'Brien came out of the room and said: "I am the man that is wounded."
Patrick Sullivan, James Sweeny and David Stewart of the Revenue Police gave testimony "as to several acts of foolishness and madness" which had been committed by Moore when he was in police custody.
But Sergeant Burt who also gave evidence during the trial said: "I never considered the prisoner infected with insanity, he was never deranged in my presence."
During the trial the News Letter correspondent noted: "The prisoner during the trial appeared much affected at his situation and wept a good deal."
At the conclusion of both prosecution and defence cases his Lordship, the Honourable Justice Moore, had summed up the evidence presented the jury who heard the trial retired to deliberate.
After 10 minutes they returned a verdict of guilty of manslaughter.
His Lordship then sentenced Moore to be transported for life.