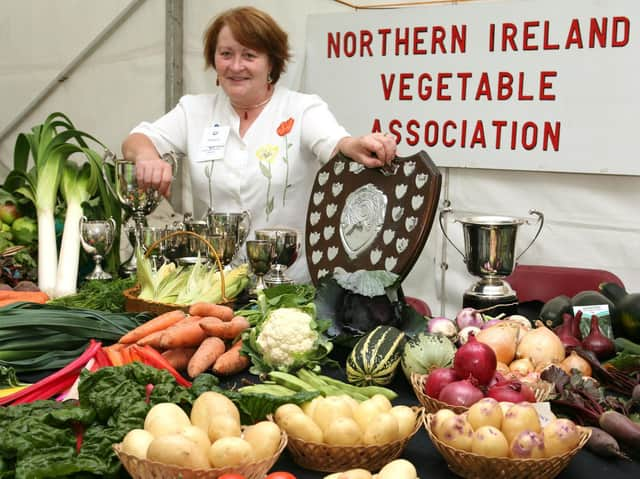 Magi Gardiner a committee member of the NI Vegetable Association at the Garden Gourmet even in Botanic Gardens in September 2007. Picture: Bernie Brown/News Letter archives
Anticipation was building around the forthcoming International Flower Show which was to be held in Botanic Gardens in August 1874.
Such was the excitement that it merited an editorial comment in the News Letter on this day in 1874.
The paper remarked: "The entries for the great International Flower Show in Botanic Gardens, on the 20th inst, are now completed; and we are glad to hear that they more than equal the warmest anticipations of its promoters. Not only has such an exhibition as will be seen here next week never been imagined in Ireland before, but it is not too much to say that even in England its equal has been but rarely seen."
At the head of the exhibitors was Queen Victoria, noted the paper's editorial, who was to "send some of the choicest fruit from the Royal garden".
The paper remarked: "And her Majesty's example has been followed by her subjects from every part of the United Kingdom. From the most distant counties of England, from Kent and Durham, collections are coming. The most eminent of the London nurserymen will contribute some of the newest importations from foreign countries. Scotland will not be behind, and all the most celebrated growers of either fruit of flowers in our own island are exerting themselves to the utmost to win the chief prizes from such illustrious antagonists."