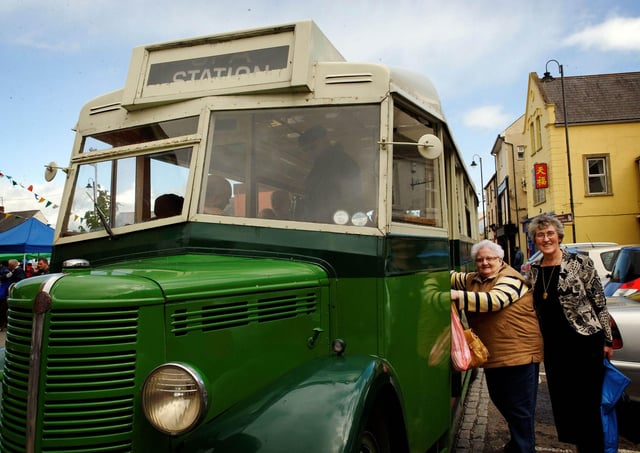 Elizabeth Mawhinney and Florence Chambers board the Ulster Transport Authority bus for a tour of Old Dromore in May 2009. Picture: Drew McWilliams
On this day in October 1950 the News Letter published an interesting on the future transport policy of the Northern Ireland government. The crux of the matter was whether road transport or rail transport would prevail.
The News Letter's editorial read: "Government policy in regard to the Great Northern Railway underwent severe criticism in the Commons at Stormont yesterday, with a strong tendency in speeches from both sides of the House to stir up what the Minister of Commerce described as 'the dust of ancient controversy'.
"The main attack, however, came from Unionist backbenchers, and it looks as if others are ready to join in a week hence when the discussion is resumed.
"In moving a resolution implying acquiescence in the decision not to purchase the Northern Ireland section of the railway, but to explore the possibilities of road and rail co-ordination, leading to more economic working, Mr McCleery rebutted the suggestion that the Government had any ulterior motive, and stated that the Ulster Transport Authority would enter the negotiations with a genuine desire to assist the railway company, not to profit at its expense.
"He went on to describe possible means of effecting a saving in both administrative and operating costs. Co-ordination did not mean simply a closing down of certain branches of the railway - it could, he believed, result in a staggering of services, with the same revenue but a decreased expenditure.
"The Government's interest was not in the break-up value of the railway, but in its value as an instrument of service to the public.
"As far as the discussion went yesterday, however, it revealed a lack of conviction about all this and, for that matter, of assurance that the Great Northern company has no grievance."
The News Letter's editorial concluded: "Quite evidently there is a growing anxiety about the whole system of public transport, the disposition officially to regard it from a purely financial angle, the incapacity of the roads to meet the increasing strain which gradual reduction of railway services must impose upon them, the congestion that must result - in short, the whole future of public transport as the Government envisages it."