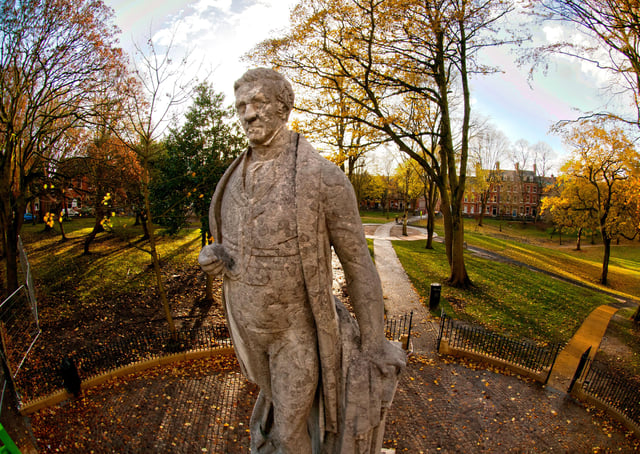 The Sir Robert Peel statue is cleaned and repaired during the big renovation of Winckley Square Gardens in Preston. Picture: Neil Cross/JP Media archives
British Prime Minister Sir Robert Peel was facing the most defining moment of his career this week in 1845 as he attempted to repeal the Corn Laws which had been introduced to protect British agriculture.
On this day the News Letter carried a leader article backing Peel and criticising his opponents.
It read: "The sagacity of Sir Robert Peel, in his determination to retain the present system of Corn Laws, uninterrupted and unmodified, may be easily measured, amongst the friends of the agricultural interest of the empire, and especially the Irish agricultural interest, by the rage of the anti-Corn Law Leaguers, upon discovering that the ports are not opened, even in the face of the calamity which not threatens the nation. It is strange, that while the champions of the anti-Corn Law League, and their organs in the Press, are sedulous in their efforts to show that Sir Robert Peel has been beaten in the cabinet upon this same question of the opening of the ports. . .these very persons are at the same time equally sedulous in affixing upon Sir Robert all the odium consequent upon the very policy to which they pretend to believe he has been recently averse. They exult in the assumed fact. . .and yet, when they find that the ports are not to be opened, they charge upon the minister all the discredit to which, in their opinion, attaches to the keeping of the ports closed."
Sir Robert Peel (1788-1850) second baronet, Prime Minister from 1834-1835 and 1841-1846. He was born at Bury. (the story of Lancashire (London, c. 1898))